Fuel recommendations
Use Unleaded Gasoline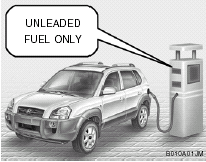 Unleaded gasoline with a Pump Octane Rating of 87 (Research Octane Number 91) or higher must be used in your Hyundai.
WARNING:
o Do not "top off" after the nozzle automatically shuts off when refueling.
o Tighten the cap until it clicks, otherwise the "

" light will illuminate.

o Always check that the fuel cap is installed securely to prevent fuel spillage in the event of an accident.
What About Gasohol?
Gasohol (a mixture of 90% unleaded gasoline and 10% ethanol or grain alcohol) may be used in your Hyundai. However, if your engine develops driveability problems, the use of 100% unleaded gasoline is recommended. Fuels with unspecified quantities of alcohol, or alcohols other than ethanol, should not be used.
Use of MTBE
Hyundai recommends that fuels containing MTBE (Methyl Tertiary Butyl Ether) over 15.0% vol. (Oxygen Content 2.7% weight) should not be used in your Hyundai.
Fuel containing MTBE over 15.0% vol. (Oxygen Content 2.7% weight) may reduce vehicle performance and produce vapor lock or hard starting.
Do Not Use Methanol
Fuels containing methanol (wood alcohol) should not be used in your Hyundai. This type of fuel can reduce vehicle performance and damage components of the fuel system.
CAUTION:
Your Hyundai's New Vehicle Limited Warranty may not cover damage to the fuel system and any performance problems that are caused by the use of fuels containing methanol or fuels containing MTBE (Methyl Tertiary Butyl Ether) over 15.0% vol. (Oxygen Content 2.7% weight.)
Gasolines for Cleaner Air
To help contribute to cleaner air, Hyundai recommends that you use gasolines treated with detergent additives, which help prevent deposit formation in the engine. These gasolines will help the engine run cleaner and enhance performance of the Emission Control System.
Operation in Foreign Countries
If you are going to drive your Hyundai in another country, be sure to:
o Observe all regulations regarding registration and insurance.
o Determine that acceptable fuel is available.
See also:
Parking Brake/ Low Brake Fluid Level Warning Light
CAUTION: If you suspect brake trouble, have your brakes checked by a Hyundai dealer as soon as possible. Driving your car with a problem in either the brake electrical system or brake hydraulic ...
Maintenance Requirements
The maintenance required for your Hyundai can be divided into three main areas: o Specified scheduled procedures o General checks o Do-it-yourself maintenance ...
SMALL ON THE OUTSIDE, BIG ON THE INSIDE
All Accents ride on a 101.2 inch wheelbase, 2.8-inches longer than the previous generation. The 66.9-inch width on all 2011 models increased by 0.2 inches for 2012. The Hyundai Accent 4-door's ove ...