Hyundai Tucson Owner's manual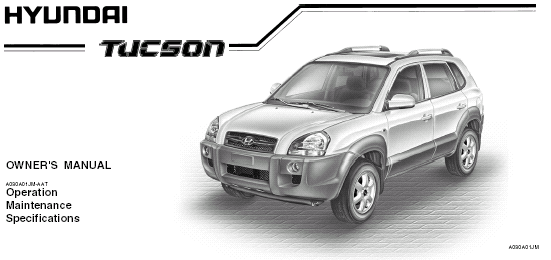 WARRANTIES FOR YOUR HYUNDAI VEHICLE
Please consult your Owner's Handbook & Warranty Information booklet for your vehicle's specific
warranty coverage.
RESPONSIBILITY FOR MAINTENANCE
The maintenance requirements for your new Hyundai are found in Section 5. As the owner, it is your responsibility to see that all maintenance operations specified by the manufacturer are carried out at the appropriate intervals.
When the vehicle is used in severe driving conditions, more frequent maintenance is required for some operations.
Maintenance requirements for severe operating conditions are also included in Section 5.
All information in this Owner's Manual is current at the time of publication. However, Hyundai reserves the right to make changes at any time so that our policy of continual product improvement may be carried out.
This manual applies to all Hyundai


models and includes descriptions and explanations of optional as well as standard
equipment. As a result, you may find material in this manual that does not apply to your specific vehicle.
CAUTION: MODIFICATIONS TO YOUR HYUNDAI
Your Hyundai should not be modified in any way. Such modifications may adversely affect the performance, safety or durability of your Hyundai and may, in addition, violate conditions of the limited warranties covering the vehicle.
Certain modifications may also be in violation of regulations established by the U.S. Department of Transportation and other federal or state agencies.
TWO-WAY RADIO OR CELLULAR TELEPHONE INSTALLATION
Your vehicle is equipped with electronic fuel injection and other electronic components. It is possible for an improperly installed/adjusted two-way radio or cellular telephone to adversely affect electronic systems. For this reason, we recommend that you carefully follow the radio manufacturer's instructions or consult your Hyundai dealer for precautionary measures or special instructions if you choose to install one of these devices.
SAFETY AND VEHICLE DAMAGE WARNING
This manual includes information titled as WARNING, CAUTION and NOTE.
These titles indicate the following:
WARNING:
This indicates that a condition may result in harm, serious injury or death to you or other persons if
the warning is not heeded. Follow the advice provided with the warning.
CAUTION:
This indicates that a condition may result in damage to your vehicle or its equipment if the caution is not heeded. Follow the advice provided with the caution.
NOTE:
This indicates that interesting or helpful information is being provided.
VEHICLE DATA COLLECTION AND EVENT DATA RECORDERS
Your Hyundai vehicle is equipped with many high technology, electronically controlled systems that
help to ensure your vehicle operates properly and provides the performance that you expect. These
systems utilize computers to monitor the operation of various systems and components and help to
control their operation. These computerized system operations are wide-ranging and involve
components to reduce emissions, to continuously evaluate the readiness of the airbag and seat belt
pretensioner systems, to determine when the airbag and seat belt pre-tensioner systems should be
deployed and then to activate the deployment, and if equipped, to operate anti-lock braking, traction control and electrical stability control to assist the driver to control the vehicle in difficult driving situations. These systems electronically store information that is useful to service technicians when they need to diagnose and repair these systems. Additional information is stored only when a crash
occurs that results in the deployment of the airbags or seat belt pre-tensioners. This type of data storage is done by devices called event data recorders(EDR).
After a crash event, the airbag and seat belt pre-tensioner computer system, known as the Supplemental Restraint System Control Module (SRSCM) or Airbag Control Unit (ACU), may record some information
about the condition of the vehicle and how it was being operated. This information consists of data related to seat belt usage and if there was diagnostic information in the airbag or seat belt systems
at the time that a crash occurred, and if the ACU sensed that a crash of sufficient severity occurred to require seat belt pre-tensioner or airbag deployment.
To retrieve this information, special equipment is needed and access to the vehicle or the device that stores the data is required. Hyundai will not access information about a crash event or share it with
others except:
o in response to an official request of police or similar government office, or.
o with the consent of the vehicle owner or, if the vehicle is leased, with the consent of the lessee, or.
o as part of Hyundai's defense of litigation, or.
o as required by law.
See also:
Trailer or vehicle towing
If you are considering towing with your car, you should first check with your State's Department of Motor Vehicles to determine their legal requirements. Since laws vary from State to State the req ...
Cruise Control System
The cruise control system allows you to program the vehicle to maintain a constant speed without resting your foot on the accelerator pedal. This system is designed to function above approximately ...
Vehicle weight
This section will guide you in the proper loading of your vehicle, to keep your loaded vehicle weight within its design rating capability. Properly loading your vehicle will provide maximum return ...