AUX, USB AND iPod® PORT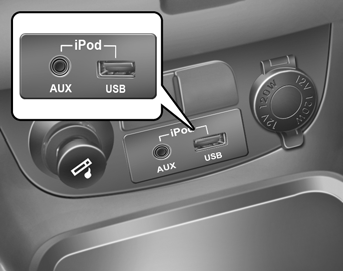 If your vehicle has an aux and/or USB(universal serial bus) port or iPod port, you can use an aux port to connect audio devices, a USB port to plug in a USB, and an iPod port to plug in an iPod. When using an iPod through the vehicle's Audio System, a Hyundai adapter cable is required in order to receive all functions, which can be purchased at your local Hyundai dealership.
NOTE:
When using a portable audio device connected to the power outlet, noise may occur during playback. If this happens, use the power source of the portable audio device.