To increase cruise control set speed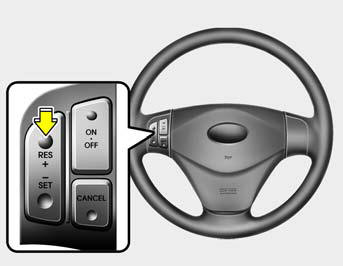 Follow either of these procedures: o Push the RES/+ switch and hold it. Your vehicle will accelerate. Release the switch at the speed you want.
o Push the RES/+ switch and release it immediately. The cruising speed will increase by 1 mph (1.6 km/h) each time the RES/+ switch is operated in this manner.
See also:
Changing a flat tire
The procedure described on the following pages can be used to rotate tires as well as to change a flat tire. When preparing to change a flat tire, check to be sure the gear selector lever is in ...
Turn Signal Indicator Lights
The blinking green arrow on the instrument panel shows the direction indicated by the turn signals. If the arrow comes on but does not blink, blinks more rapidly than normal, or does not blink a ...
Hybrid-ness
Before I get into the performance and technology aspects of what makes the Sonata Hybrid tick, I've got to point out the fact that the Sonata Hybrid looks dramatically different from its gasoline- ...