To set cruise control speed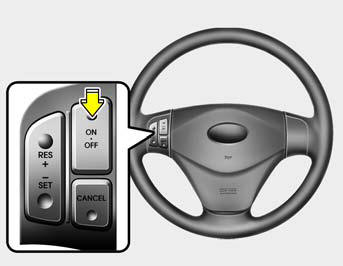 1. Push the CRUISE ON-OFF button on the steering wheel to turn the system on. The CRUISE indicator light in the instrument cluster will illuminate.
2. Accelerate to the desired speed, which must be more than 25 mph (40 km/h).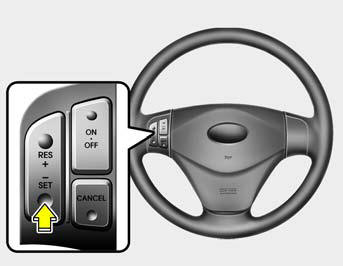 3. Push the -/SET switch, and release it at the desired speed. The SET indicator light in the instrument cluster will illuminate. Release the accelerator at the same time. The desired speed will automatically be maintained.
On a steep grade, the vehicle may slow down or speed up slightly while going downhill.
NOTE:
On steeper hills, with a Manual Transaxle, the cruise control may be unable to maintain the set speed. The driver should downshift as necessary. Press the "RES/+" button to resume the cruise control at the set speed in the new gear. After cresting the hill, upshift, and press the "RES/+" again. If the speed drops ~ 9 mph below the set speed, the cruise control will cancel. If it cancels, shift to the appropriate gear, and press the OMC039301 "RES/+" to resume the cruse control.
See also:
Certification label
The certification label is located on the driver's door sill at the center pillar. This label shows the maximum allowable weight of the fully loaded vehicle. This is called the GVWR (Gross Vehi ...
Window defroster switch
Windshield wiper Blade De-icer (If installed) The windshield wiper blade de-icer is turned on by pushing in the switch. To turn the de-icer off, push the switch a second time. The windshield wi ...
Record Your Key Number
A code number is recorded on the number tag that came with the keys to your Hyundai. This key number tag should not be left with the keys but kept in a safe place, not in the vehicle. The key nu ...