Electric Type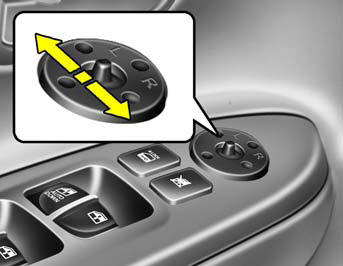 The outside rearview mirrors can be adjusted to your preferred rear vision, both directly behind the vehicle, and to the rear of the left and right sides.
The remote control outside rearview mirror switch controls the adjustments for both right and left outside mirrors.
To adjust the position of either mirror:
1. Move the selecting switch to the right or left to activate the adjustable mechanism for the corresponding door mirror.
2. Adjust mirror angle by depressing the appropriate directional switch as illustrated.
CAUTION:
o Do not operate the switch continuously for an unnecessary length of time.
o Scraping ice from the mirror face could cause permanent damage. To remove any ice, use a sponge, soft cloth or approved de-icer.
WARNING:
Be careful when judging the size or distance of any object seen in the passenger side rearview mirror. It is a convex mirror with a curved surface. Any objects seen in this mirror are closer than they appear.
See also:
2012 Hyundai Elantra review
One of the likely consequences of the federal government's push for more stringent fuel economy standards is that more people will be driving smaller cars in the future. Not too long ago, with the ...
ADVANCED TECHNOLOGY FOR SUPERIOR FUEL ECONOMY
The 2012 Hyundai Accent's all-aluminum 1.6-liter Gamma four-cylinder engine utilizes the latest engine technology to deliver a class-leading 138 horsepower and 123 lb-ft of torque and a best-in-cl ...
FAMILY LIFESTAGE
In Diapers: The Latch connectors are hard to get to, which makes it difficult to install a child-safety seat. In School: Kids in booster seats have enough legroom and headroom to sit comfortably ...