Adjustable Intermittent Wiper Operation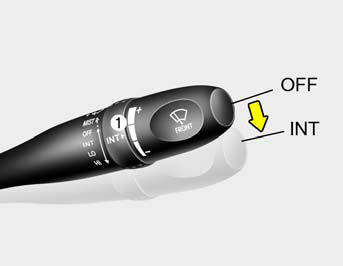 To use the intermittent wiper feature, place the wiper switch in the "INT" position. With the switch in this position, the interval between wipes can be varied from approximately 1 to 15 seconds by turning the interval adjuster barrel (1).
See also:
2009 Hyundai Accent review
In a world of economic instability, any new car that can tout a sub-$10,000 starting price has a lot going for it. OK, it has exactly one thing going for it: It's cheap. But that doesn't necessarily ...
To Check the Oil Level
Before checking the oil, warm up the engine to the normal operating temperature and be sure it is parked on level ground. Turn the engine off. Wait five minutes, then remove the dipstick, wipe it ...
AWARD-WINNING TAU 4.6-LITER V8 ENGINE WITH EIGHT-SPEED AUTOMATIC
For 2012, Hyundai Genesis' award-winning Tau 4.6-liter V8 powerplant will now be coupled exclusively with an in-house-developed eight-speed automatic transmission with SHIFTRONIC, adding benefits ...