Adjustable Intermittent Wiper Operation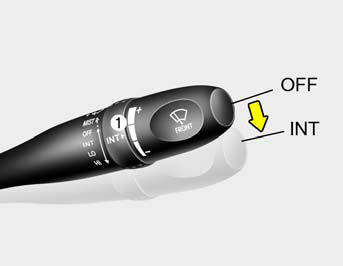 To use the intermittent wiper feature, place the wiper switch in the "INT" position. With the switch in this position, the interval between wipes can be varied from approximately 1 to 15 seconds by turning the interval adjuster barrel (1).
See also:
Driveshafts and Boots
Check the drive shafts, boots and clamps for cracks, deterioration, or damage. Replace any damaged parts and, if necessary, repack the grease. ...
Replacing Accessory Fuses
The fuse box for the lights and other electrical accessories will be found low on the dashboard on the driver's side. Inside the box you will find a list showing the circuits protected by ea ...
Truckish performance
Interior noise aside, the Santa Fe performed well on the road. The ride is feels more truckish than carlike. The bumps are hard, and on the highway, I never felt confident in this vehicle. The pow ...