Windshield Washer Operation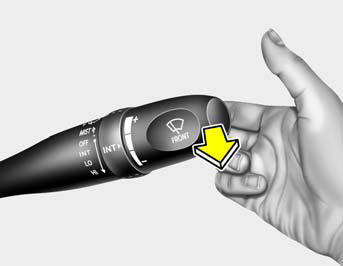 To use the windshield washer, pull the wiper/washer lever toward the steering wheel.
When the washer lever is operated, the wipers automatically make three passes across the windshield. The washer continues to operate until the lever is released.
NOTE:
o Do not operate the washer more than 15 seconds at a time or when the fluid reservoir is empty.
o In icy or freezing weather, be sure the wiper blades are not frozen to the glass prior to operating the wipers.
o In areas where water freezes in winter, use windshield washer antifreeze.
See also:
RADIO, SET UP, VOLUME CONTROL (PA710S) (If Installed)
1. AM Selection Button 2. FM Selection Button 3. XM Selection Button 4. Automatic Channel Selection Button 5. Power ON/OFF Button & Volume Control Button 6. SCAN Button 7. MUTE Button 8. ...
Changing the air cleaner filter
To change the filter, unsnap the clips around the cover. When this is done, the cover can be lifted off, the old filter removed and the new filter put in its place. Genuine Hyundai Replacement P ...
Gasoline containing alcohol and methanol
Gasohol, a mixture of gasoline and ethanol (also known as grain alcohol), and gasoline or gasohol containing methanol (also known as wood alcohol) are being marketed along with or instead of leade ...