Adjusting Your Seat Belt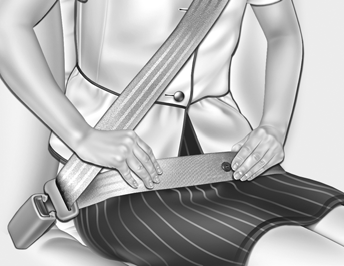 WARNING:
You should place the lap belt portion as low as possible and snugly across your hips, not on your waist. If the lap belt is located too high on your waist, it may increase the chance of injury in the event of a collision. Both arms should not be under or over the belt. Rather, one should be over and the other under, as shown in the illustration.
Never wear the seat belt under the arm nearest the door.
To Release the Seat Belt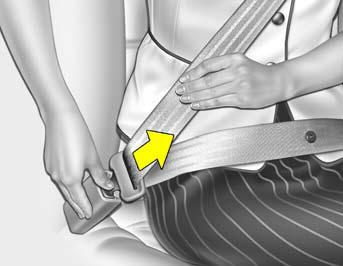 The seat belt is released by pressing the release button in the locking buckle. When it is released, the belt should automatically draw back into the retractor. If this does not happen, check the belt to be sure it is not twisted, then try again.
See also:
Locking from the Inside
To lock the doors from the inside, simply close the door and push the lock switch to the "LOCK" position. NOTE: o When pushing the lock switch of the passenger's door to the " ...
To temporarily accelerate with the cruise control on
If you want to speed up temporarily when the cruise control is on, depress the accelerator pedal. Increased speed will not interfere with cruise control operation or change the set speed. To retu ...
Turn Signal Operation
Pulling down on the lever causes the turn signals on the left side of the car to blink. Pushing upward on the lever causes the turn signals on the right side of the car to blink. As the turn is co ...