Locking from the Inside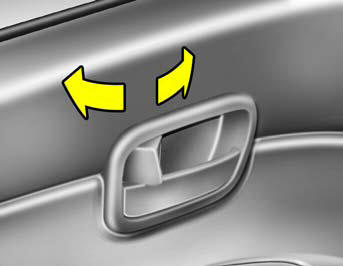 To lock the doors from the inside, simply close the door and push the lock switch to the "LOCK" position.
NOTE:
o When pushing the lock switch of the passenger's door to the "LOCK" position, all doors can be locked.
o When the door is locked, the red mark on the switch is not visible.
o The driver's door can be opened by pulling the inside door handle even if the inside lock switch is pushed to the "LOCK" position.
WARNING:
Be careful not to pull the inside door handle while driving. If you pull the inside door handle, the door can be opened and you may be ejected from the vehicle and can be injured or killed.
See also:
Spark Plugs
Make sure to install new spark plugs of the correct heat range. ...
Truckish performance
Interior noise aside, the Santa Fe performed well on the road. The ride is feels more truckish than carlike. The bumps are hard, and on the highway, I never felt confident in this vehicle. The pow ...