Locking from the Inside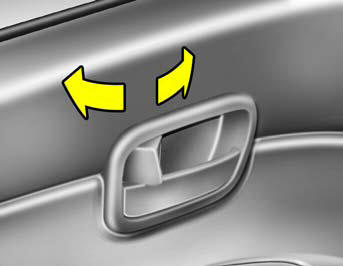 To lock the doors from the inside, simply close the door and push the lock switch to the "LOCK" position.
NOTE:
o When pushing the lock switch of the passenger's door to the "LOCK" position, all doors can be locked.
o When the door is locked, the red mark on the switch is not visible.
o The driver's door can be opened by pulling the inside door handle even if the inside lock switch is pushed to the "LOCK" position.
WARNING:
Be careful not to pull the inside door handle while driving. If you pull the inside door handle, the door can be opened and you may be ejected from the vehicle and can be injured or killed.
See also:
Do not use methanol
Fuels containing methanol (wood alcohol) should not be used in your vehicle. This type of fuel can reduce vehicle performance and damage components of the fuel system. ...
If the Engine Overheats
If your temperature gauge indicates overheating, you experience a loss of power, or hear loud pinging or knocking, the engine is probably too hot. If this happens, you should: 1. Pull off the roa ...
Fuel Lines, Fuel Hoses and Connections
Check the fuel lines, fuel hoses and connections for leakage and damage. Have a trained techincian, replace any damaged or leaking parts immediately. ...