License plate light bulb replacement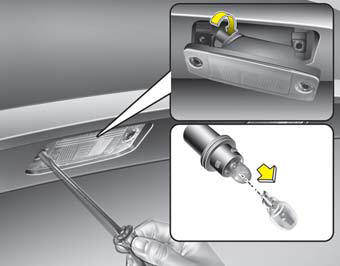 1. Loosen the retaining screws with a philips head screwdriver.
2. Remove the soket by turning it connterclockwise.
3. Remove the bulb by pulling it straight out.
4. Install a new bulb.
5. Reinstall the bulb assembly securely with the retaining screws.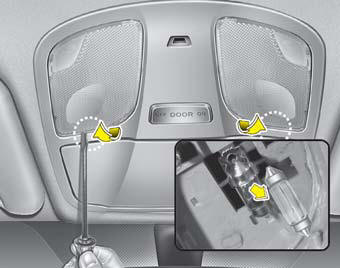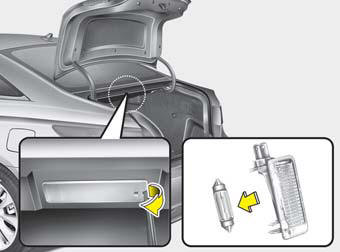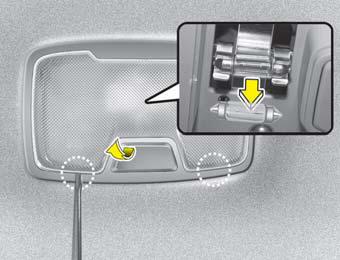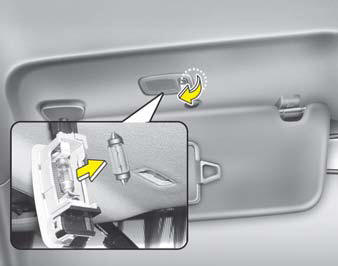 Interior light bulb replacement
1. Using a flat-blade screwdriver, gently pry the lens from the interior light housing.
2. Remove the bulb by pulling it straight out.
WARNING
Prior to working on the Interior Lights, ensure that the УOFFФ button is depressed to avoid burning your fingers or receiving an electric shock.
3. Install a new bulb in the socket.
4. Align the lens tabs with the interior light housing notches and snap the lens into place.
CAUTION
Use care not to dirty or damage lens, lens tab, and plastic housings.
See also:
Rocking the vehicle
If it is necessary to rock the vehicle to free it from snow, sand, or mud, first turn the steering wheel right and left to clear the area around your front wheels. Then, shift back and forth betwe ...
Steering wheel audio control (if equipped)
The steering wheel may incorporate audio control buttons. CAUTION Do not operate audio remote control buttons simultaneously. 1. VOLUME (VOL+/-) Х Push the lever upward (+) to increase the volum ...
EXTERIOR DESIGN
Not content to rest on their laurels, Hyundai's design team has sought to make a great Genesis exterior design even better for 2012. For the front view, the front grille has been enhanced, a more ...