License plate light bulb replacement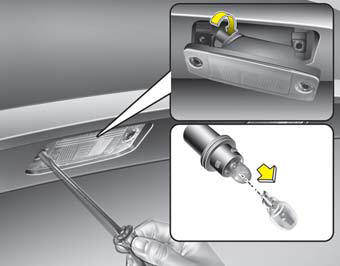 1. Loosen the retaining screws with a philips head screwdriver.
2. Remove the soket by turning it connterclockwise.
3. Remove the bulb by pulling it straight out.
4. Install a new bulb.
5. Reinstall the bulb assembly securely with the retaining screws.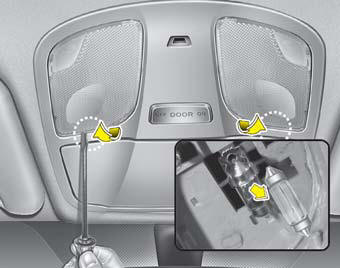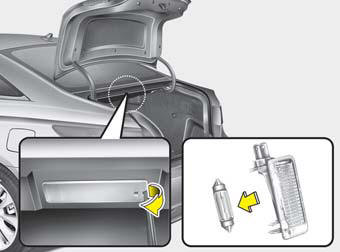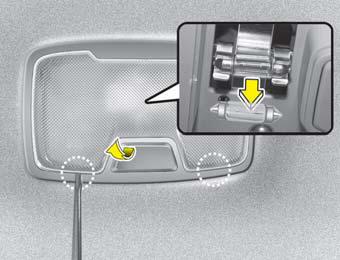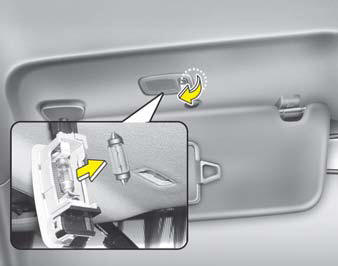 Interior light bulb replacement
1. Using a flat-blade screwdriver, gently pry the lens from the interior light housing.
2. Remove the bulb by pulling it straight out.
WARNING
Prior to working on the Interior Lights, ensure that the "OFF" button is depressed to avoid burning your fingers or receiving an electric shock.
3. Install a new bulb in the socket.
4. Align the lens tabs with the interior light housing notches and snap the lens into place.
CAUTION
Use care not to dirty or damage lens, lens tab, and plastic housings.
See also:
Exterior
The two-door hatchback Accent is kind of cute, kind of sporty and a little dorky. Some folks I came across liked it; others just weren't offended by it. The sedan's styling is much more conservati ...
Spark Plugs
Make sure to install new spark plugs of the correct heat range. ...
Antenna
Roof Antenna Your car uses a roof antenna to receive both AM and FM broadcast signals. This antenna is a removable type. To remove the antenna, turn the antenna counterclockwise. To install the ...