License plate light bulb replacement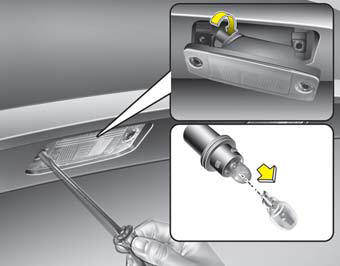 1. Loosen the retaining screws with a philips head screwdriver.
2. Remove the soket by turning it connterclockwise.
3. Remove the bulb by pulling it straight out.
4. Install a new bulb.
5. Reinstall the bulb assembly securely with the retaining screws.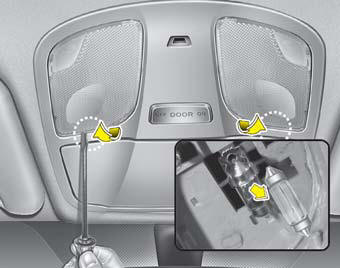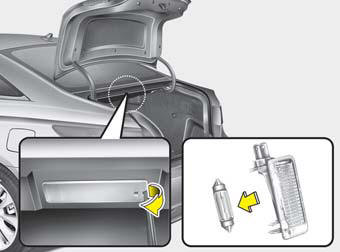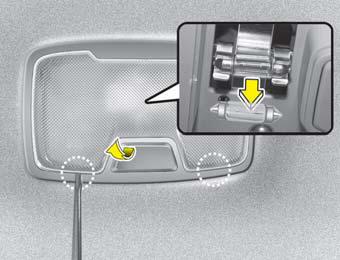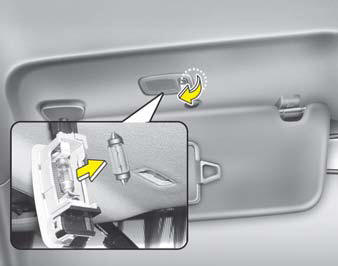 Interior light bulb replacement
1. Using a flat-blade screwdriver, gently pry the lens from the interior light housing.
2. Remove the bulb by pulling it straight out.
WARNING
Prior to working on the Interior Lights, ensure that the "OFF" button is depressed to avoid burning your fingers or receiving an electric shock.
3. Install a new bulb in the socket.
4. Align the lens tabs with the interior light housing notches and snap the lens into place.
CAUTION
Use care not to dirty or damage lens, lens tab, and plastic housings.
See also:
2011 Hyundai Elantra review
Either I'm getting finicky in my old age or Michigan's never-ending winter is getting to me. Even though the 2011 Hyundai Elantra looked cool and handled well over hard-packed snow-covered roads, ...
Armed stage
Using the smart key Park the vehicle and stop the engine. Arm the system as described below. 1.Turn off the engine. 2.Make sure that all doors, the engine hood and trunk lid are closed and latched ...
Navigation system (if equipped)
The navigation system ascertains the present position of your vehicle by using information from satellites and guides you to the place you assign as the destination. Detailed information for the na ...