Filter replacement
1. Open the glove box and remove the support strap (1).
2. With the glove box open, remove the stoppers by turning them counterclockwise on both sides.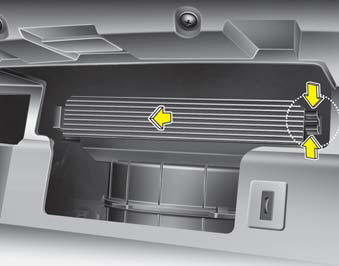 3. Remove the climate control air filter cover while pressing the lock on the right of the cover.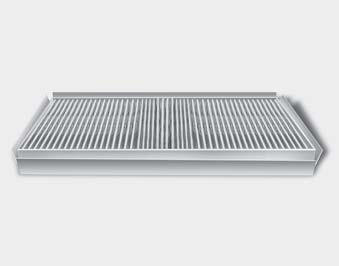 4. Replace the climate control air filter.
5. Reassemble in the reverse order of disassembly.
NOTICE
When replacing the climate control air filter install it properly. Otherwise, the system may produce noise and the effectiveness of the filter may be reduced.
See also:
Owner's responsibility
NOTICE Maintenance Service and Record Retention are the owner's responsibility. You should retain documents that show proper maintenance has been performed on your vehicle in accordance with t ...
When to replace tires
The original tires on your car have tread wear indicators . The location of tread wear indicators is shown by the "TWI" or "" marks, etc., The tread wear indicators appear wh ...
If Your Vehicle Must Be Towed
If your vehicle has to be towed, it should be done by your Hyundai dealer or a commercial tow truck service. This will help assure that your vehicle is not damaged in towing. Also, professionals a ...