Checking the engine oil level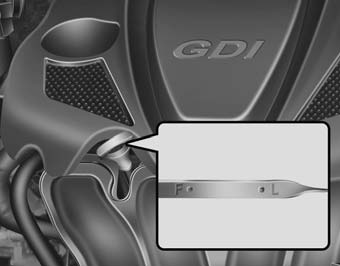 1. Be sure the vehicle is on level ground.
2. Start the engine and allow it to reach normal operating temperature.
3. Turn the engine off and wait for a few minutes (about 5 minutes) for the oil to return to the oil pan.
4. Pull the dipstick out, wipe it clean, and re-insert it fully.
5. Pull the dipstick out again and check the level. The level should be between F and L.
CAUTION
Do not overfill with engine oil. Engine damage may result.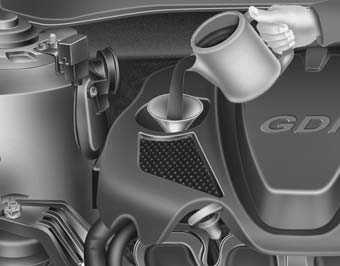 If it is near or at L, add enough oil to bring the level to F. Do not overfill.
Use a funnel to help prevent oil from being spilled on engine components.
Use only the specified engine oil. (Refer to "Recommended lubricants and capacities" in section 8.)
See also:
Remote fuel-filter lid release
The fuel-filler lid may be opened from inside the vehicle by pulling up on the fuel-filler lid opener located on the front floor area on the left side of the vehicle. NOTE: If the fuel-filler l ...
Tire terminology and definitions
Air Pressure: The amount of air inside the tire pressing outward on the tire. Air pressure is expressed in pounds per square inch (psi) or kilopascal (kPa). Accessory Weight: This means the combi ...
Changing a tire with TPMS
If you have a flat tire, the Low Tire Pressure telltale will turn on. Have the flat tire repaired by an authorized Hyundai dealer as soon as possible or replace the flat tire with the temporary sp ...