Checking the engine oil level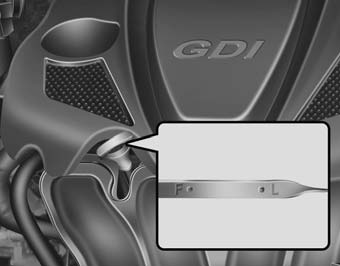 1. Be sure the vehicle is on level ground.
2. Start the engine and allow it to reach normal operating temperature.
3. Turn the engine off and wait for a few minutes (about 5 minutes) for the oil to return to the oil pan.
4. Pull the dipstick out, wipe it clean, and re-insert it fully.
5. Pull the dipstick out again and check the level. The level should be between F and L.
CAUTION
Do not overfill with engine oil. Engine damage may result.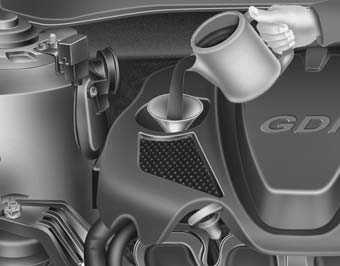 If it is near or at L, add enough oil to bring the level to F. Do not overfill.
Use a funnel to help prevent oil from being spilled on engine components.
Use only the specified engine oil. (Refer to "Recommended lubricants and capacities" in section 8.)
See also:
Low Tire Pressure Telltale (If Installed)
The low tire pressure telltale comes on for 3 seconds after the ignition key is turned to the "ON" position. If the warning light does not come on, or continuously remains on after comm ...
Polishing and Waxing
A good coat of wax is a barrier between your paint and contaminate. Keeping a good coat of wax on your vehicle will help protect it. Always wash and dry the car before polishing or waxing or using ...
Higher speed motoring
Pre-Trip Inspections 1. Tires: Adjust the tire inflation pressures to specification. Low tire inflation pressures will result in overheating and possible failure of the tires. Avoid using worn or ...