Floor mat anchor(s)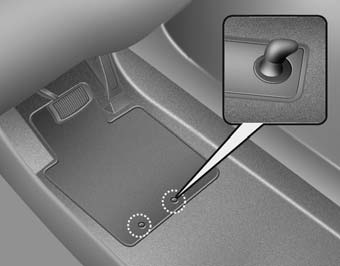 When using a floor mat on the front floor carpet, make sure it attaches to the floor mat anchor(s) in your vehicle. This keeps the floor mat from sliding forward.
WARNING
• Make sure the floor mat is properly placed on the floor carpet. If the floor mat slips and interferes with the movement of the pedals during driving, it may cause an accident.
• Don't put an additional floor mat on the top of the anchored floor mat, otherwise the additional mat may slide forward and interfere with the movement of the pedals.
See also:
Key positions
Key positions CAUTION: The engine should not be turned off or the key removed from the ignition key cylinder while the car is in motion. The steering wheel is locked by removing the key. o &qu ...
Fuses
A vehicle's electrical system is protected from electrical overload damage by fuses. This vehicle has 2 fuse panels, one located in the driver's side panel bolster, the other in the engine comp ...
Steering Gear Box, Linkage & Boots/Lower Arm Ball Joint
With the vehicle stopped and engine off, check for excessive free-play in the steering wheel. Check the linkage for bends or damage. Check the dust boots and ball joints for deterioration, cracks, ...