Floor mat anchor(s)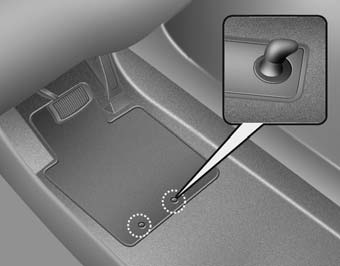 When using a floor mat on the front floor carpet, make sure it attaches to the floor mat anchor(s) in your vehicle. This keeps the floor mat from sliding forward.
WARNING
• Make sure the floor mat is properly placed on the floor carpet. If the floor mat slips and interferes with the movement of the pedals during driving, it may cause an accident.
• Don't put an additional floor mat on the top of the anchored floor mat, otherwise the additional mat may slide forward and interfere with the movement of the pedals.
See also:
Don't Neglect the Interior
Moisture can collect under the floor mats and carpeting to cause corrosion. Check under the mats periodically to be sure the carpeting is dry. Use particular care if you carry fertilizers, cleanin ...
Breaking in your new Hyundai
No formal "break-in" procedure is required with your new Hyundai. However, you can contribute to the economical operation and durability of your Hyundai by observing the following recomme ...
Spark plugs
Make sure to install new spark plugs of the correct heat range. ...