To Check the Fluid Level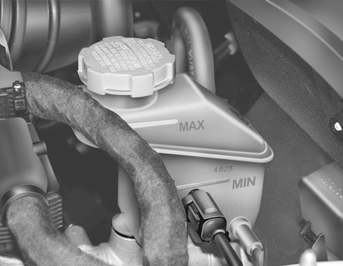 The fluid level in the brake fluid reservoir should be checked periodically. The level should be between the "MIN" and "MAX" marks on the side of the reservoir. If the level is at or below the "MIN" mark, carefully add fluid to bring it up to "MAX". Do not overfill.
See also:
Checking the amount of air conditioner refrigerant and compressor lubricant
When the amount of refrigerant is low, the performance of the air conditioning is reduced. Overfilling also has a negative influence on the air conditioning system. Therefore, if abnormal operatio ...
General checks
Engine Compartment The following should be checked regularly: o Engine oil level and condition. o Transaxle fluid level and condition. o Brake fluid level. o Clutch fluid level. o Engine coolant ...
Vehicle Interior
The following should be checked each time when the vehicle is driven: o Light operation o Windshield wiper operation o Horn operation o Defroster, heater system operation (and air conditioning, if ...