To Check the Fluid Level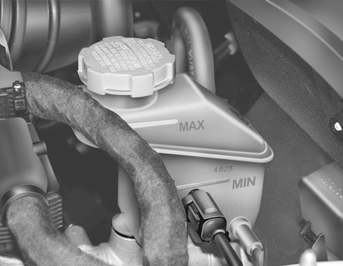 The fluid level in the brake fluid reservoir should be checked periodically. The level should be between the "MIN" and "MAX" marks on the side of the reservoir. If the level is at or below the "MIN" mark, carefully add fluid to bring it up to "MAX". Do not overfill.
See also:
ADVANCED STANDARD SAFETY TECHNOLOGIES: PART OF HYUNDAI'S ASSURANCE COMMITMENT
Hyundai Sonata is built from the ground up with safety in mind, with a hot stamped ultra-high-strength steel body structure, advanced airbag technology and Electronic Stability Control (ESC), deli ...
Cleaning the Carpets
Use a foam-type carpet cleaner. Cleaners of this type are available in aerosol cans in liquid form or powder. Read the instructions and follow them exactly. Using a vacuum cleaner with the appropr ...
2010 Hyundai Tucson review by By Scott Burgess
It has spent nearly two decades repairing and then polishing its reputation. In the past, critics, including myself, have accused it of copying designs and then dulling them up. Some vehicles had ...