To Check the Fluid Level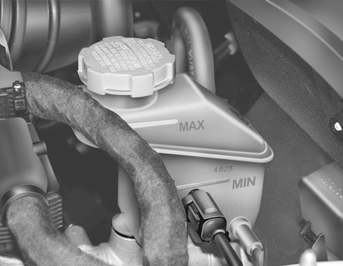 The fluid level in the brake fluid reservoir should be checked periodically. The level should be between the "MIN" and "MAX" marks on the side of the reservoir. If the level is at or below the "MIN" mark, carefully add fluid to bring it up to "MAX". Do not overfill.
See also:
Changing a Flat Tire
The procedure described on the following pages can be used to rotate tires as well as to change a flat tire. When preparing to change a flat tire, check to be sure the gear selector lever is in ...
CHASSIS REFINEMENT FOR 3.8 AND 4.6 MODELS
Always seeking to enhance the Hyundai Genesis driving experience, Hyundai engineers have made further refinements to the 3.8 and 4.6 model suspension damping calibrations. These precise adjustment ...
DIRECT INJECTION LAMBDA 3.8-LITER ENGINE
In keeping with its 5.0-liter V8 sibling, the Hyundai Genesis 3.8-liter Lambda engine will receive direct injection (GDI) technology, boosting its output 15 percent from 290 to 333 horsepower, an ...