Windshield washers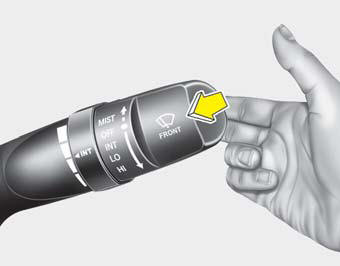 In the OFF position, pull the lever gently toward you to spray washer fluid on the windshield and to run the wipers 1-3 cycles.
Use this function when the windshield is dirty.
The spray and wiper operation will continue until you release the lever.
If the washer does not work, check the washer fluid level. If the fluid level is not sufficient, you will need to add appropriate non-abrasive windshield washer fluid to the washer reservoir.
The reservoir filler neck is located in the front of the engine compartment on the passenger side.
CAUTION
To prevent possible damage to the washer pump, do not operate the washer when the fluid reservoir is empty.
WARNING
Do not use the washer in freezing temperatures without first warming the windshield with the defrosters; the washer solution could freeze on contact with the windshield and obscure your vision.
CAUTION
Х To prevent possible damage to the wipers or windshield, do not operate the wipers when the windshield is dry.
Х To prevent damage to the wiper blades, do not use gasoline, kerosene, paint thinner, or other solvents on or near them.
Х To prevent damage to the wiper arms and other components, do not attempt to move the wipers manually.
See also:
Tire pressure monitoring system (TPMS)
(1) Low tire pressure telltale / TPMS malfunction indicator Each tire, including the spare (if provided), should be checked monthly when cold and inflated to the inflation pressure recommended by ...
Snow tires
If you equip your car with snow tires, they should be the same size and have the same load capacity as the original tires. Snow tires should be installed on all four wheels; otherwise, poor handli ...
Good Driving Practices
o Never move the gear selector lever from "P" or "N" to any other position with the accelerator pedal depressed. o Never move the gear selector lever into "P" when the ...