High beam operation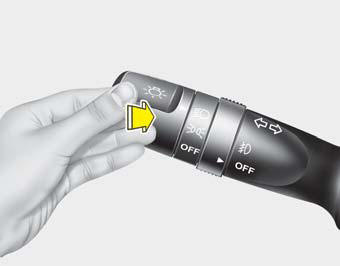 To turn on the high beam headlights, push the lever away from you. Pull it back for low beams.
The high beam indicator will light when the headlight high beams are switched on.
To prevent the battery from being discharged, do not leave the lights on for a prolonged time while the engine is not running.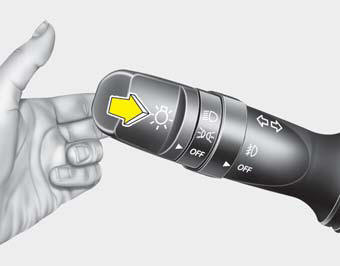 To flash the headlights, pull the lever towards you. It will return to the normal (low beam) position when released. The headlight switch does not need to be on to use this flashing feature.
See also:
Warranties for Your Hyundai Vehicle
Please consult your Owner's Handbook & Warranty Information booklet for your vehicle's specific warranty coverage. ...
Changing a Flat Tire
The procedure described on the following pages can be used to rotate tires as well as to change a flat tire. When preparing to change a flat tire, check to be sure the gear selector lever is in ...
Radial-ply tires
Radial-ply tires provide improved tread life, road hazard resistance and smoother high speed ride. The radial- ply tires used on this vehicle are of belted construction, and are selected to comple ...