High beam operation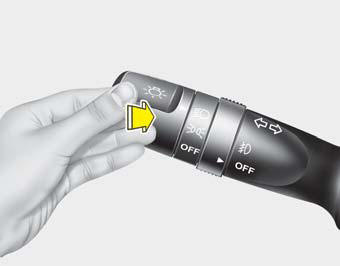 To turn on the high beam headlights, push the lever away from you. Pull it back for low beams.
The high beam indicator will light when the headlight high beams are switched on.
To prevent the battery from being discharged, do not leave the lights on for a prolonged time while the engine is not running.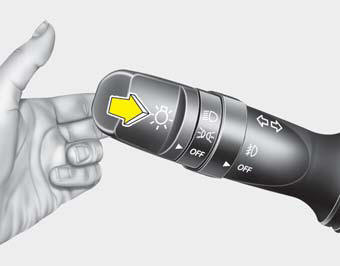 To flash the headlights, pull the lever towards you. It will return to the normal (low beam) position when released. The headlight switch does not need to be on to use this flashing feature.
See also:
Roof rack
(If installed) If your Hyundai has a roof rack, you can load things on top of your vehicle. Crossrails and fixing components to adapt the roof rack on your vehicle may be obtained from an author ...
Removal and installation
To remove the headrest, raise it as far as it can go then press the release button (1) while pulling upward (2). To reinstall the headrest, put the headrest poles (3) into the holes while pressin ...
2012 Hyundai Elantra review
One of the likely consequences of the federal government's push for more stringent fuel economy standards is that more people will be driving smaller cars in the future. Not too long ago, with the ...