High beam operation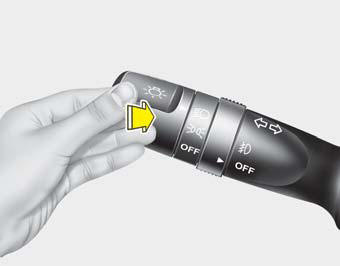 To turn on the high beam headlights, push the lever away from you. Pull it back for low beams.
The high beam indicator will light when the headlight high beams are switched on.
To prevent the battery from being discharged, do not leave the lights on for a prolonged time while the engine is not running.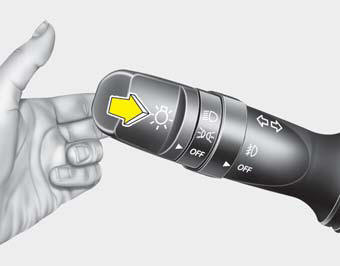 To flash the headlights, pull the lever towards you. It will return to the normal (low beam) position when released. The headlight switch does not need to be on to use this flashing feature.
See also:
Driving for economy
You can save fuel and get more miles from your car if you follow these suggestions: o Drive smoothly. Accelerate at a moderate rate. Don't make "jack-rabbit" starts or fullthrottle shift ...
NEW SAFETY TECHNOLOGIES
Maintaining Hyundai's emphasis on delivering leading safety technology, Hyundai Genesis boasts world-class active and passive safety features to help both prevent accidents and maximize the well b ...
3. Exhaust emission control system
The Exhaust Emission Control System is a highly effective system which controls exhaust emissions while maintaining good vehicle performance. Vehicle modifications This vehicle should not be modif ...