High beam operation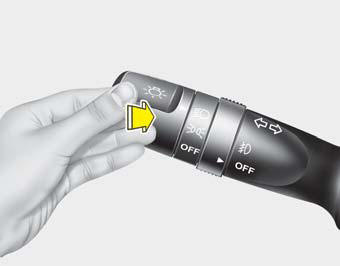 To turn on the high beam headlights, push the lever away from you. Pull it back for low beams.
The high beam indicator will light when the headlight high beams are switched on.
To prevent the battery from being discharged, do not leave the lights on for a prolonged time while the engine is not running.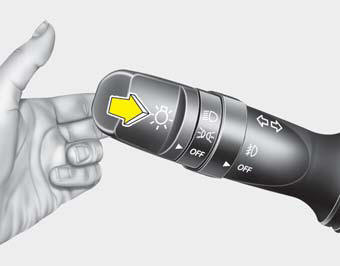 To flash the headlights, pull the lever towards you. It will return to the normal (low beam) position when released. The headlight switch does not need to be on to use this flashing feature.
See also:
Tire sidewall labeling
Federal law requires tire manufacturers to place standardized information on the sidewall of all tires. This information identifies and describes the fundamental characteristics of the tire and ...
RUNNING iPod®(PA710) (If Installed)
1. iPod Selection Button 2. TRACK Moving Button 3. RANDOM Playback Button 4. REPEAT Selection Button 5. INFO Button 6. SEARCH Knob & ENTER Button 7. CATEGORY Selection Button 1. iPod Sele ...
NEW 5.0 R-SPEC: MOST POWERFUL HYUNDAI V8 ENGINE EVER
The heart of the Hyundai Genesis 5.0 R-Spec model is a new Tau V8 engine producing 429 horsepower at 6,400 rpm and 376 lb. ft. of torque at 5,000 rpm. This new Tau V8 represents the most powerful ...