Lighting control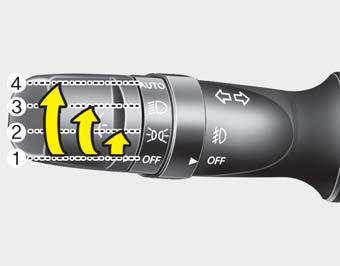 The light switch has a Headlight and a Parking light position.
To operate the lights, turn the knob at the end of the control lever to one of the following positions:
(1) OFF position
(2) Parking light position (3) Headlight position
(4) Auto light position (if equipped)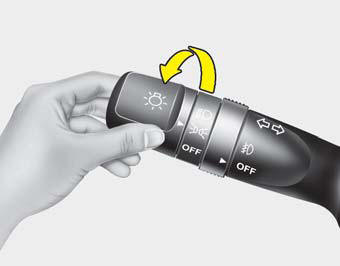 Parking light position (

)
When the light switch is in the parking light position, the tail, position and license lights are ON and the tail light indicator is ON (if equipped).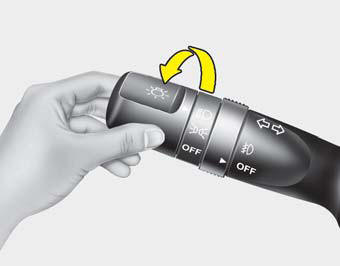 Headlight position (

)
When the light switch is in the headlight position the head, tail, license and instrument panel lights are ON.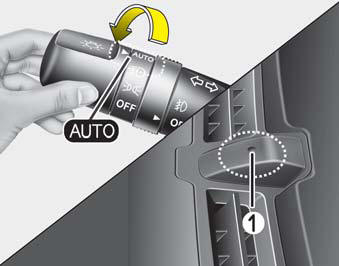 Auto light position (if equipped)
When the light switch is in the AUTO light position, the taillights and headlights will be turned ON or OFF automatically depending on the amount of light outside the vehicle.
CAUTION
Х Never place anything over sensor (1) located on the instrument panel. This will ensure better auto-light system control.
Х DonТt clean the sensor using a window cleaner. The cleaner may leave a light film which could interfere with sensor operation.
Х If your vehicle has window tint or other types of metallic coating on the front windshield, the Auto light system may not work properly.
See also:
Keep Your Car Clean
The best way to prevent corrosion is to keep your car clean and free of corrosive materials. Attention to the underside of the car is particularly important. o If you live in a high-corrosion area ...
Operation in Foreign Countries
If you are going to drive your Hyundai in another country, be sure to: o Observe all regulations regarding registration and insurance. o Determine that acceptable fuel is available. ...
FILLING THE WASHER RESERVOIR
A good quality washer fluid should be used to fill the washer reservoir. The fluid level should be checked more frequently during inclement weather or whenever the washer system is in more frequ ...