Lighting control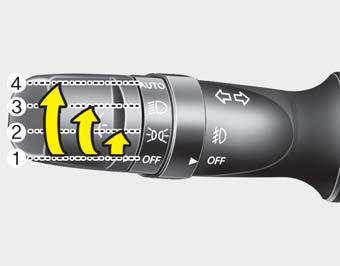 The light switch has a Headlight and a Parking light position.
To operate the lights, turn the knob at the end of the control lever to one of the following positions:
(1) OFF position
(2) Parking light position (3) Headlight position
(4) Auto light position (if equipped)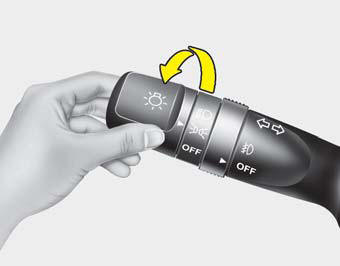 Parking light position (

)
When the light switch is in the parking light position, the tail, position and license lights are ON and the tail light indicator is ON (if equipped).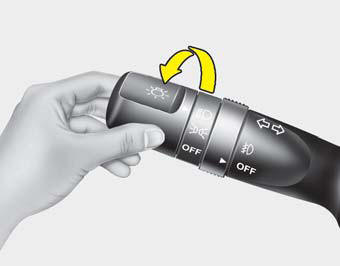 Headlight position (

)
When the light switch is in the headlight position the head, tail, license and instrument panel lights are ON.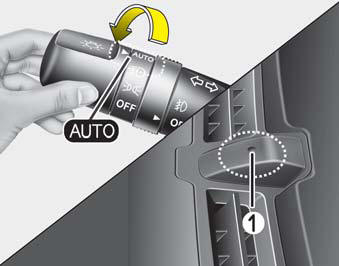 Auto light position (if equipped)
When the light switch is in the AUTO light position, the taillights and headlights will be turned ON or OFF automatically depending on the amount of light outside the vehicle.
CAUTION
Х Never place anything over sensor (1) located on the instrument panel. This will ensure better auto-light system control.
Х DonТt clean the sensor using a window cleaner. The cleaner may leave a light film which could interfere with sensor operation.
Х If your vehicle has window tint or other types of metallic coating on the front windshield, the Auto light system may not work properly.
See also:
SRS Care
The SRS is virtually maintenance-free and there are no parts you can safely service by yourself. If the SRS "AIR BAG" warning light does not illuminate, or continuously remains on, have ...
Smooth cornering
Avoid braking or gear changing in corners, especially when roads are wet. Ideally, corners should always be taken under gentle acceleration. If you follow these suggestions, tire wear will be held ...
Performance
Subcompact buyers have been treated poorly in the performance department. Inexpensive engines and transmissions have resulted in subpar mileage numbers despite the fact that the subcompacts weigh ...