Opening the fuel filler lid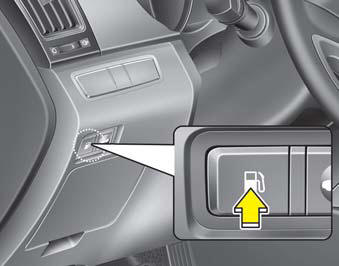 The fuel filler lid must be opened from inside the vehicle by pushing the fuel filler lid opener button.
NOTICE
If the fuel filler lid will not open because ice has formed around it, tap lightly or push on the lid to break the ice and release the lid. Do not pry on the lid. If necessary, spray around the lid with an approved de-icer fluid (do not use radiator anti-freeze) or move the vehicle to a warm place and allow the ice to melt.Sunroof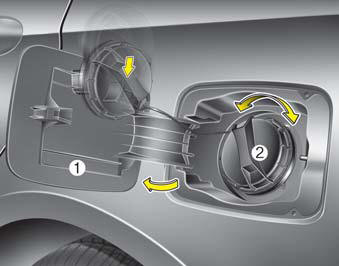 1. Stop the engine.
2. To open the fuel filler lid, push the fuel filler lid opener button.
3. Pull the fuel filler lid (1) out to fully open.
4. To remove the cap, turn the fuel tank cap (2) counterclockwise.
5. Refuel as needed.
See also:
Spectacle case
(If Installed) The spectacle case is located on the front overhead console. Push the end of the cover to open the spectacle case. WARNING: Do not keep objects except spectacle inside the spec ...
Key Positions
WARNING: The engine should not be turned off or the key removed from the ignition key cylinder while the vehicle is in motion. The steering wheel is locked by removing the key. o "START&q ...
Hood release
1. Pull the release knob to unlatch the hood. 2. Push the secondary latch lever to the left and lift the hood. 3. Hold the hood open with the support rod. Before closing the hood, return t ...