Opening the fuel filler lid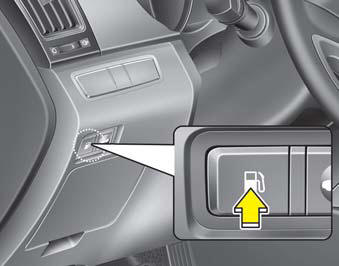 The fuel filler lid must be opened from inside the vehicle by pushing the fuel filler lid opener button.
NOTICE
If the fuel filler lid will not open because ice has formed around it, tap lightly or push on the lid to break the ice and release the lid. Do not pry on the lid. If necessary, spray around the lid with an approved de-icer fluid (do not use radiator anti-freeze) or move the vehicle to a warm place and allow the ice to melt.Sunroof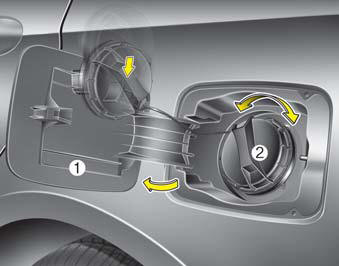 1. Stop the engine.
2. To open the fuel filler lid, push the fuel filler lid opener button.
3. Pull the fuel filler lid (1) out to fully open.
4. To remove the cap, turn the fuel tank cap (2) counterclockwise.
5. Refuel as needed.
See also:
Interior Light
1. Remove the cover with a flat-head screwdriver. 2. Replace with a new bulb. ...
Luggage compartment
LUGGAGE COMPARTMENT LIGHT (If installed) Luggage compartment light has a 3-position switch. The three positions are: o In the "DOOR" position, the luggage compartment light comes on wh ...
IMPROVED LOOK HARDLY THRILLING
Visually, the Accent looks quite similar to a Fiesta, so much so that in the rear view mirror, we often mistook it for its American competitor. Upon closer inspection, the styling cues themselves ...