Opening the fuel filler lid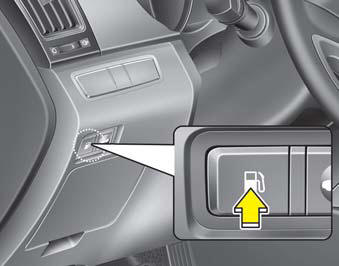 The fuel filler lid must be opened from inside the vehicle by pushing the fuel filler lid opener button.
NOTICE
If the fuel filler lid will not open because ice has formed around it, tap lightly or push on the lid to break the ice and release the lid. Do not pry on the lid. If necessary, spray around the lid with an approved de-icer fluid (do not use radiator anti-freeze) or move the vehicle to a warm place and allow the ice to melt.Sunroof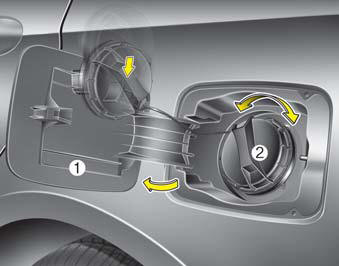 1. Stop the engine.
2. To open the fuel filler lid, push the fuel filler lid opener button.
3. Pull the fuel filler lid (1) out to fully open.
4. To remove the cap, turn the fuel tank cap (2) counterclockwise.
5. Refuel as needed.
See also:
Polishing and Waxing
A good coat of wax is a barrier between your paint and contaminate. Keeping a good coat of wax on your vehicle will help protect it. Always wash and dry the car before polishing or waxing or using ...
Windshield washers
In the OFF position, pull the lever gently toward you to spray washer fluid on the windshield and to run the wipers 1-3 cycles. Use this function when the windshield is dirty. The spray and wipe ...
Temperature control
The temperature control knob allows you to control the temperature of the air flowing from the ventilation system. To change the air temperature in the passenger compartment, turn the knob to th ...