Opening the fuel filler lid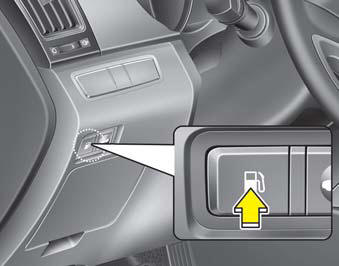 The fuel filler lid must be opened from inside the vehicle by pushing the fuel filler lid opener button.
NOTICE
If the fuel filler lid will not open because ice has formed around it, tap lightly or push on the lid to break the ice and release the lid. Do not pry on the lid. If necessary, spray around the lid with an approved de-icer fluid (do not use radiator anti-freeze) or move the vehicle to a warm place and allow the ice to melt.Sunroof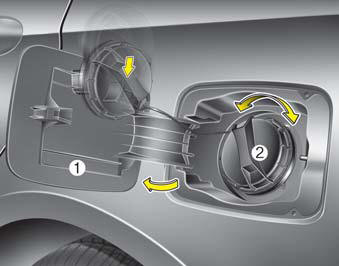 1. Stop the engine.
2. To open the fuel filler lid, push the fuel filler lid opener button.
3. Pull the fuel filler lid (1) out to fully open.
4. To remove the cap, turn the fuel tank cap (2) counterclockwise.
5. Refuel as needed.
See also:
Checking Condenser Cooling Fan
The condenser cooling fan should come on automatically whenever the air conditioner is in operation. ...
High Beam Indicator Light
The high beam indicator light comes on whenever the headlights are switched to the high beam or flash position. ...
Gasolines for Cleaner Air
To help contribute to cleaner air, Hyundai recommends you use gasolines treated with detergent additives, which help prevent deposit formation in the engine. These gasolines will help the engine r ...