Opening the fuel filler lid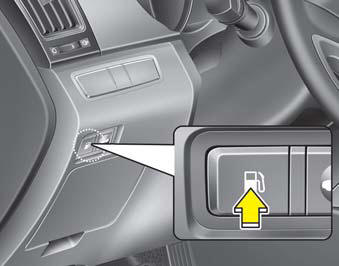 The fuel filler lid must be opened from inside the vehicle by pushing the fuel filler lid opener button.
NOTICE
If the fuel filler lid will not open because ice has formed around it, tap lightly or push on the lid to break the ice and release the lid. Do not pry on the lid. If necessary, spray around the lid with an approved de-icer fluid (do not use radiator anti-freeze) or move the vehicle to a warm place and allow the ice to melt.Sunroof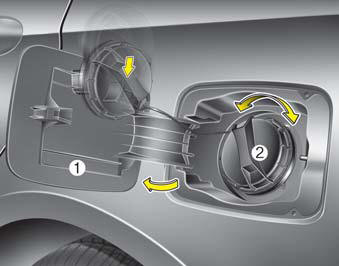 1. Stop the engine.
2. To open the fuel filler lid, push the fuel filler lid opener button.
3. Pull the fuel filler lid (1) out to fully open.
4. To remove the cap, turn the fuel tank cap (2) counterclockwise.
5. Refuel as needed.
See also:
Tire Information
The tires supplied on your new Hyundai are chosen to provide the best performance for normal driving. If you ever have questions about your tire warranty and where to obtain service, see the tire ...
All season tires
HYUNDAI specifies all season tires on some models to provide good performance for use all year round, including snowy and icy road conditions. All season tires are identified by ALL SEASON and/or ...
Automatic climate control system
1. Front windshield defrost button 2. Rear window defrost button 3. AUTO (automatic control) button 4. OFF button 5. Driver's temperature control button 6. Mode indicator 7. Mode selection but ...