Opening the fuel filler lid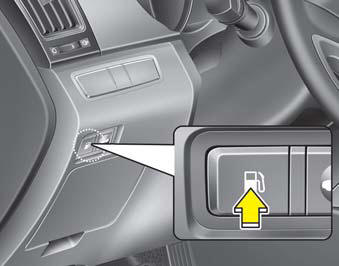 The fuel filler lid must be opened from inside the vehicle by pushing the fuel filler lid opener button.
NOTICE
If the fuel filler lid will not open because ice has formed around it, tap lightly or push on the lid to break the ice and release the lid. Do not pry on the lid. If necessary, spray around the lid with an approved de-icer fluid (do not use radiator anti-freeze) or move the vehicle to a warm place and allow the ice to melt.Sunroof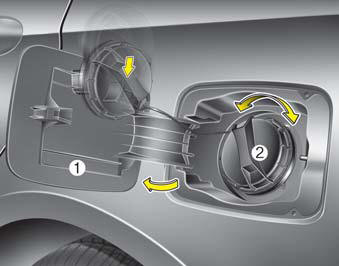 1. Stop the engine.
2. To open the fuel filler lid, push the fuel filler lid opener button.
3. Pull the fuel filler lid (1) out to fully open.
4. To remove the cap, turn the fuel tank cap (2) counterclockwise.
5. Refuel as needed.
See also:
FRONT DRINK HOLDER
The drink holder is located on the main console for holding cups or cans. WARNING: o Use caution when using the drink holders. A spilled beverage that is very hot can injure you or your passenge ...
Coolant
The coolant should be changed at the intervals specified in the maintenance schedule. ...
EXTERIOR DESIGN
Not content to rest on their laurels, Hyundai's design team has sought to make a great Genesis exterior design even better for 2012. For the front view, the front grille has been enhanced, a more ...