Opening the fuel filler lid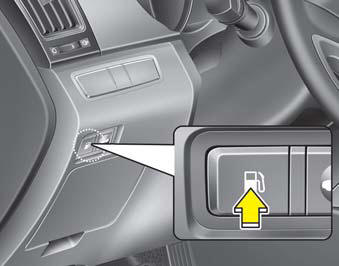 The fuel filler lid must be opened from inside the vehicle by pushing the fuel filler lid opener button.
NOTICE
If the fuel filler lid will not open because ice has formed around it, tap lightly or push on the lid to break the ice and release the lid. Do not pry on the lid. If necessary, spray around the lid with an approved de-icer fluid (do not use radiator anti-freeze) or move the vehicle to a warm place and allow the ice to melt.Sunroof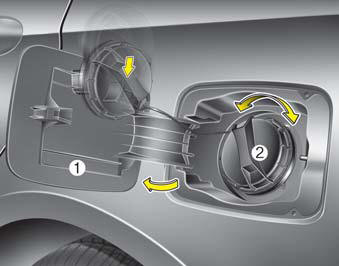 1. Stop the engine.
2. To open the fuel filler lid, push the fuel filler lid opener button.
3. Pull the fuel filler lid (1) out to fully open.
4. To remove the cap, turn the fuel tank cap (2) counterclockwise.
5. Refuel as needed.
See also:
40 MPG - AN 18 PERCENT IMPROVEMENT IN FUEL ECONOMY
The 2012 Hyundai Accent's highway fuel economy of 40 mpg is an 18 percent improvement over its predecessor's 34 mpg highway manual transmission fuel economy rating. Hyundai Accent's fuel economy ...
Vehicle data collection and event data recorders
This vehicle is equipped with an event data recorder (EDR). The main purpose of an EDR is to record, in certain crash or near crash-like situations, such as an air bag deployment or hitting a road ...
Fuel Filter
A clogged filter can limit the speed at which the vehicle may be driven, damage the emission system and cause hard starting. If an excessive amount of foreign matter accumulates in the fuel tank, ...