FILLING THE WASHER RESERVOIR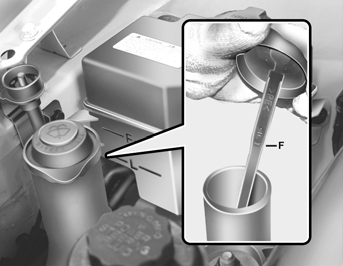 A good quality washer fluid should be used to fill the washer reservoir. The fluid level should be checked more frequently during inclement weather or whenever the washer system is in more frequent use.
CAUTION:
o Radiator anti-freeze (engine coolant) should not be used in the washer system because it will damage the car's finish.
o The washer should not be operated if the washer reservoir is empty. This can damage the washer fluid pump.
WARNING:
o Windshield washer fluid agents contain some amounts of alcohol and can be flammable under certain circumstances. Do not allow sparks or flame to contact the washer fluid or the washer fluid reservoir. Damage to the vehicle or its occupants could occur.
o Windshield washer fluid is poisonous to humans and animals. Do not drink windshield washer fluid. Serious injury or death could occur.
See also:
Driving for Economy
You can save fuel and get more miles from your car if you follow these suggestions: o Drive smoothly. Accelerate at a moderate rate. Don't make "jack-rabbit" starts or full-throttle s ...
Safety
The Hyundai Sonata is one of only two cars on the market that have received both a Top Safety Pick designation from the Insurance Institute for Highway Safety and a five-star overall safety rating ...
Jump starting
Jump starting can be dangerous if done incorrectly. Therefore, to avoid harm to yourself or damage to your vehicle or battery, follow the jump starting procedures. If in doubt, we strongly recomme ...