FILLING THE WASHER RESERVOIR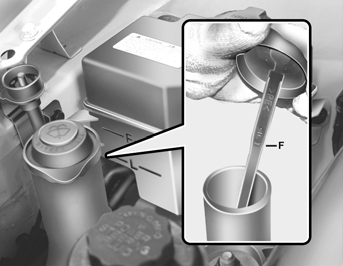 A good quality washer fluid should be used to fill the washer reservoir. The fluid level should be checked more frequently during inclement weather or whenever the washer system is in more frequent use.
CAUTION:
o Radiator anti-freeze (engine coolant) should not be used in the washer system because it will damage the car's finish.
o The washer should not be operated if the washer reservoir is empty. This can damage the washer fluid pump.
WARNING:
o Windshield washer fluid agents contain some amounts of alcohol and can be flammable under certain circumstances. Do not allow sparks or flame to contact the washer fluid or the washer fluid reservoir. Damage to the vehicle or its occupants could occur.
o Windshield washer fluid is poisonous to humans and animals. Do not drink windshield washer fluid. Serious injury or death could occur.
See also:
Air cnditioning care
Keeping the Condenser Clean The air conditioning condenser (and engine radiator) should be checked periodically for accumulation of dirt, dead insects, leaves, etc. These can interfere with maximu ...
2011 Hyundai Elantra review By Scott Burgess
The very first thing I said to myself when I sat down in the 2011 Hyundai Elantra was "Well, this is going to screw things up." For months, I have been advocating that the best compact c ...
2011 Hyundai Sonata review
I've gotten tired of writing about the next good Hyundai. And according to the late night profanity-laced messages left on my voice mail, so have Detroit readers. So let's just stop acting surpr ...