FILLING THE WASHER RESERVOIR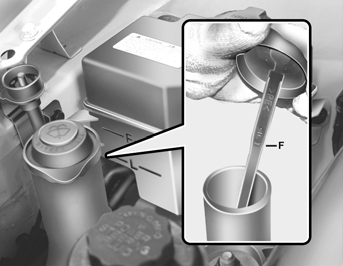 A good quality washer fluid should be used to fill the washer reservoir. The fluid level should be checked more frequently during inclement weather or whenever the washer system is in more frequent use.
CAUTION:
o Radiator anti-freeze (engine coolant) should not be used in the washer system because it will damage the car's finish.
o The washer should not be operated if the washer reservoir is empty. This can damage the washer fluid pump.
WARNING:
o Windshield washer fluid agents contain some amounts of alcohol and can be flammable under certain circumstances. Do not allow sparks or flame to contact the washer fluid or the washer fluid reservoir. Damage to the vehicle or its occupants could occur.
o Windshield washer fluid is poisonous to humans and animals. Do not drink windshield washer fluid. Serious injury or death could occur.
See also:
Theft-alarm system
This system is designed to provide protection from unauthorized entry into the vehicle. This system is operated in three stages: the first is the "Armed" stage, the second is the &quot ...
Starting
Starting WARNING: Never run the engine in a closed or poorly ventilated area any longer than is needed to move your car in or out of the area. The carbon monoxide gas emitted is odorless and c ...
Имущественное страхование и договор
Человеку всегда было присуще желание как-то обезопасить себя от вредоносных последствий жизни или хотя бы попытаться свести их к минимуму. Для одних это связано с опасной работой, где высока доля р ...