FILLING THE WASHER RESERVOIR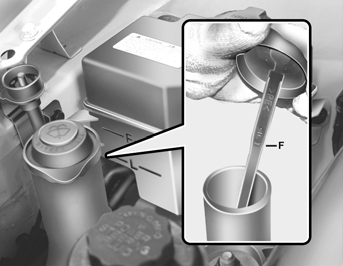 A good quality washer fluid should be used to fill the washer reservoir. The fluid level should be checked more frequently during inclement weather or whenever the washer system is in more frequent use.
CAUTION:
o Radiator anti-freeze (engine coolant) should not be used in the washer system because it will damage the car's finish.
o The washer should not be operated if the washer reservoir is empty. This can damage the washer fluid pump.
WARNING:
o Windshield washer fluid agents contain some amounts of alcohol and can be flammable under certain circumstances. Do not allow sparks or flame to contact the washer fluid or the washer fluid reservoir. Damage to the vehicle or its occupants could occur.
o Windshield washer fluid is poisonous to humans and animals. Do not drink windshield washer fluid. Serious injury or death could occur.
See also:
Changing the coolant
Have coolant changed by an authorized HYUNDAI dealer according to the Maintenance Schedule at the beginning of this section. CAUTION Put a thick cloth or fabric around the radiator cap before refi ...
CHASSIS REFINEMENT FOR 3.8 AND 4.6 MODELS
Always seeking to enhance the Hyundai Genesis driving experience, Hyundai engineers have made further refinements to the 3.8 and 4.6 model suspension damping calibrations. These precise adjustment ...
Temperature control
The temperature control knob allows you to control the temperature of the air flowing from the ventilation system. To change the air temperature in the passenger compartment, turn the knob to th ...