FILLING THE WASHER RESERVOIR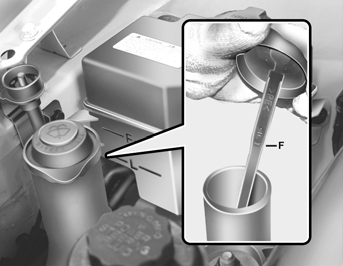 A good quality washer fluid should be used to fill the washer reservoir. The fluid level should be checked more frequently during inclement weather or whenever the washer system is in more frequent use.
CAUTION:
o Radiator anti-freeze (engine coolant) should not be used in the washer system because it will damage the car's finish.
o The washer should not be operated if the washer reservoir is empty. This can damage the washer fluid pump.
WARNING:
o Windshield washer fluid agents contain some amounts of alcohol and can be flammable under certain circumstances. Do not allow sparks or flame to contact the washer fluid or the washer fluid reservoir. Damage to the vehicle or its occupants could occur.
o Windshield washer fluid is poisonous to humans and animals. Do not drink windshield washer fluid. Serious injury or death could occur.
See also:
2011 Hyundai Sonata Hybrid review
In the world of hybrids, there are two schools of thought: You can buy a Toyota Prius — a hard-core, 50-mpg hybrid with funky styling and a utilitarian interior — or you can pay more and get less- ...
Tire rotation
To equalize tread wear, it is recommended that the tires be rotated every 7,500 miles (12,000 km) or sooner if irregular wear develops. During rotation, check the tires for correct balance. When r ...
Snowy or Icy Conditions
To drive your vehicle in deep snow, it may be necessary to use snow tires or to install tire chains on your tires. If snow tires are needed, it is necessary to select tires equivalent in size and ...