FILLING THE WASHER RESERVOIR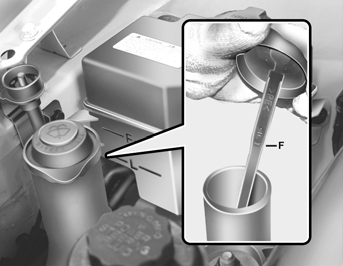 A good quality washer fluid should be used to fill the washer reservoir. The fluid level should be checked more frequently during inclement weather or whenever the washer system is in more frequent use.
CAUTION:
o Radiator anti-freeze (engine coolant) should not be used in the washer system because it will damage the car's finish.
o The washer should not be operated if the washer reservoir is empty. This can damage the washer fluid pump.
WARNING:
o Windshield washer fluid agents contain some amounts of alcohol and can be flammable under certain circumstances. Do not allow sparks or flame to contact the washer fluid or the washer fluid reservoir. Damage to the vehicle or its occupants could occur.
o Windshield washer fluid is poisonous to humans and animals. Do not drink windshield washer fluid. Serious injury or death could occur.
See also:
Instrument cluster
1. Tachometer 2. Turn signal indicators 3. Speedometer 4. Engine temperature gauge 5.Warning and indicator lights 6. Fuel gauge 7. Odometer/Trip computer * The actual cluster in the vehicle m ...
Front fog light (if equipped)
Fog lights are used to provide improved visibility when visibility is poor due to fog, rain or snow etc. The fog lights will turn on when fog light switch (1) is turned to ON after the headlight ...
Interior light
Map Light Push in the map light switch to turn the light on or off. This light is convenient as a map light at night or as a personal light for the driver and the passenger. INTERIOR LIGHT T ...