Side impact air bag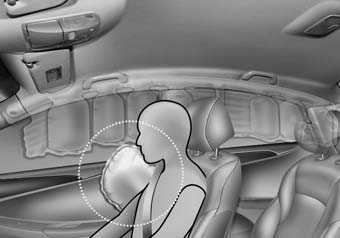 Your vehicle is equipped with a side impact air bag in each front seat. The purpose of the air bag is to provide the vehicle's driver and/or the front passenger with additional protection than that offered by the seat belt alone.
The side impact air bags are designed to deploy only during certain side-impact collisions, depending on the crash severity, angle, speed and point of impact. The side impact air bags are not designed to deploy in all side impact situations.
WARNING
Х The side impact air bag is supplemental to the driver's and the passenger's seat belt systems and is not a substitute for them. Therefore your seat belts must be worn at all times while the vehicle is in motion. The air bags deploy only in certain side impact conditions severe enough to cause significant injury to the vehicle occupants.
Х For best protection from the side impact air bag system and to avoid being injured by the deploying side impact air bag, both front seat occupants should sit in an upright position with the seat belt properly fastened. The driver's hands should be placed on the steering wheel at the 9:00 and 3:00 positions. The passenger's arms and hands should be placed on their laps.
Х Do not use any accessory seat covers.
Х Use of seat covers could reduce or prevent the effectiveness of the system.
Х Do not install any accessories on the side or near the side air bag.
Х Do not place any objects over the air bag or between the air bag and yourself.
Х Do not place any objects (an umbrella, bag, etc.) between the front door and the front seat. Such objects may become dangerous projectiles and cause injury if the supplemental side air bag inflates.
Х To prevent unexpected deployment of the side impact air bag that may result in personal injury, avoid impact to the side impact sensor when the ignition switch is on.
Х If the seat or seat cover is damaged, have the vehicle checked and repaired by an authorized HYUNDAI dealer because your vehicle is equipped with side impact air bags and an occupant classification system.
See also:
Fuel recommendations
Use Unleaded Gasoline Unleaded gasoline with a Pump Octane Rating of 87 (Research Octane Number 91) or higher must be used in your Hyundai. WARNING: o Do not "top off" after the nozzl ...
Headlight Flasher
To flash the headlights, pull the switch lever toward you, then release it. The headlights can be flashed even though the headlight switch is in the "OFF" position. ...
2009 Hyundai Accent review
In a world of economic instability, any new car that can tout a sub-$10,000 starting price has a lot going for it. OK, it has exactly one thing going for it: It's cheap. But that doesn't necessarily ...