Interior light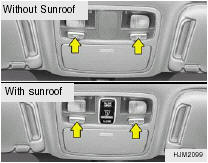 Map Light
Push in the map light switch to turn the light on or off. This light is convenient as a map light at night or as a personal light for the driver and the passenger.
INTERIOR LIGHT
The interior courtesy light has two buttons. The two buttons are:
o DOOR
In the "DOOR" position, the interior courtesy light comes on when any door is opened regardless of the ignition key position.
The light goes out after 30 seconds if the door is closed.
When a door is unlocked by the transmitter, the interior light stays on for 30 seconds as long as the door is not opened.
o ON
In the "ON" position, the light stays on at all times. Do not leave this button pressed for an extended period of time when the vehicle is not running.
See also:
FUEL GAUGE
The needle on the gauge indicates the approximate fuel level in the fuel tank. The fuel capacity is given in Section 9. NOTE: The "" symbol means the fuel filler lid is placed on the ...
Power Steering Pump, Belt and Hoses
Check the power steering pump and hoses for leakage and damage. Replace any damaged or leaking parts immediately. Inspect the power steering belt for evidence of cuts, cracks, excessive wear, oili ...
Use high quality ethylene glycol coolant
Your vehicle is delivered with high quality ethylene glycol coolant in the cooling system. It is the only type of coolant that should be used because it helps prevent corrosion in the cooling syst ...