Changing the air cleaner filter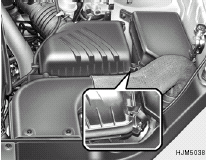 To change the filter, unsnap the clips around the cover. When this is done, the cover can be lifted off, the old filter removed and the new filter put in its place. Genuine Hyundai Replacement Parts are recommended.
CAUTION:
o Operating your vehicle without a proper air filter in place can result in excessive engine wear.
o When removing the air cleaner filter, be careful that dust or dirt does not enter the air intake. These may result in damage to the air cleaner filter.
See also:
Changing a tire with TPMS
If you have a flat tire, the Low Tire Pressure telltale will turn on. Have the flat tire repaired by an authorized Hyundai dealer as soon as possible or replace the flat tire with the temporary sp ...
127,500 miles (204,000 km) or 102 months
❑ Inspect air cleaner filter ❑ Inspect vacuum hose ❑ Replace engine oil and filter (127,500 miles (204,000 km) or 204 months) ...
Canister
Fuel vapors generated inside the fuel tank are absorbed and stored in the onboard canister. When the engine is running, the fuel vapors absorbed in the canister are drawn into the induction system ...