Changing the air cleaner filter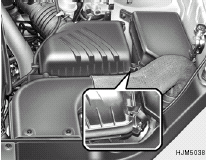 To change the filter, unsnap the clips around the cover. When this is done, the cover can be lifted off, the old filter removed and the new filter put in its place. Genuine Hyundai Replacement Parts are recommended.
CAUTION:
o Operating your vehicle without a proper air filter in place can result in excessive engine wear.
o When removing the air cleaner filter, be careful that dust or dirt does not enter the air intake. These may result in damage to the air cleaner filter.
See also:
Vehicle Identification Number (VIN)
The vehicle identification number (VIN) is the number used in registering your car and in all legal matters pertaining to its ownership, etc. It can be found in four different places on yo ...
Multi-function light switch
COMBINATION TURN SIGNAL, HEADLIGHT AND HIGH-BEAM SWITCH Turn Signal Operation Pulling down on the lever causes the turn signals on the left side of the car to blink. Pushing upwards on the lever c ...
Change to "winter weight" oil if necessary
In some climates it is recommended that a lower viscosity "winter weight" oil be used during cold weather. See section 8 for recommendations. If you aren't sure what weight oil you s ...