Record Your Key Number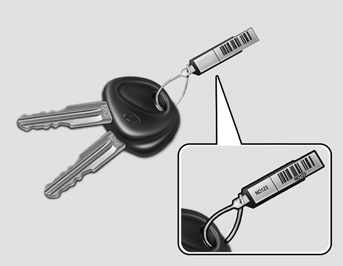 A code number is recorded on the number tag that came with the keys to your Hyundai. This key number tag should not be left with the keys but kept in a safe place, not in the vehicle. The key number should also be recorded in a place where it can be found in an emergency.
If you need additional keys, or if you should lose your keys, your authorized Hyundai dealer can make new keys if you can supply the key number.
See also:
Checking the engine oil level
1. Be sure the vehicle is on level ground. 2. Start the engine and allow it to reach normal operating temperature. 3. Turn the engine off and wait for a few minutes (about 5 minutes) for the oil ...
Checking brake pedal clearance
You need a helper to check the brake pedal clearance. With the engine running, have your helper press down on the brake pedal several times and then hold it down with a force of about 110 lbs (5 ...
Trunk lamp
The trunk room lamp comes on when the trunk is opened. CAUTION The trunk lamp comes on as long as the trunk lid is open. To prevent unnecessary charging system drain, close the trunk lid securel ...