Record Your Key Number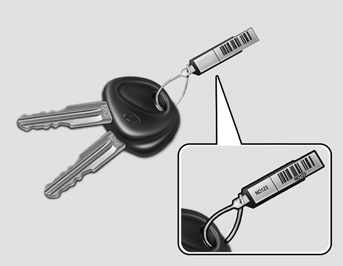 A code number is recorded on the number tag that came with the keys to your Hyundai. This key number tag should not be left with the keys but kept in a safe place, not in the vehicle. The key number should also be recorded in a place where it can be found in an emergency.
If you need additional keys, or if you should lose your keys, your authorized Hyundai dealer can make new keys if you can supply the key number.
See also:
Don't Let Ice and Snow Accumulate Underneath
Under some conditions, snow and ice can build up under the fenders and interfere with the steering. When driving in severe winter conditions where this may happen, you should periodically check un ...
Checking the free-play
STEERING WHEEL To check the steering wheel free-play, stop the car with the wheels pointed straight ahead and gently move the steering wheel back and forth. Use very light finger pressure and be ...
Tire Quality Grading
Department of Transportation quality grades - All passenger vehicle tires must conform to Federal motor vehicle Safety Standards in addition to these grades. These quality grades are molded on the ...