Record Your Key Number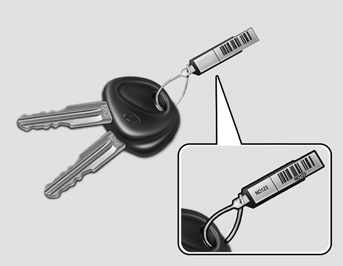 A code number is recorded on the number tag that came with the keys to your Hyundai. This key number tag should not be left with the keys but kept in a safe place, not in the vehicle. The key number should also be recorded in a place where it can be found in an emergency.
If you need additional keys, or if you should lose your keys, your authorized Hyundai dealer can make new keys if you can supply the key number.
See also:
Crankcase Emission Control System
The positive crankcase ventilation system is employed to prevent air pollution caused by blow-by gases being emitted from the crankcase. This system supplies filtered fresh air to the crankcase th ...
Parking Brake/ Low Brake Fluid Level Warning Light
CAUTION: If you suspect brake trouble, have your brakes checked by a Hyundai dealer as soon as possible. Driving your car with a problem in either the brake electrical system or brake hydraulic ...
Current Hyundai Accent
The Hyundai Accent is a five-passenger compact offered in four trim levels: GL, GS, SE and GLS. The GL, GS and the SE are two-door hatchbacks, while the GLS is available only as a four-door sedan. ...