Any questions?
If you have any questions about the care of your car, consult your Hyundai dealer.
R : Replace I : Inspect and, after inspection, clean, adjust, repair or replace if necessary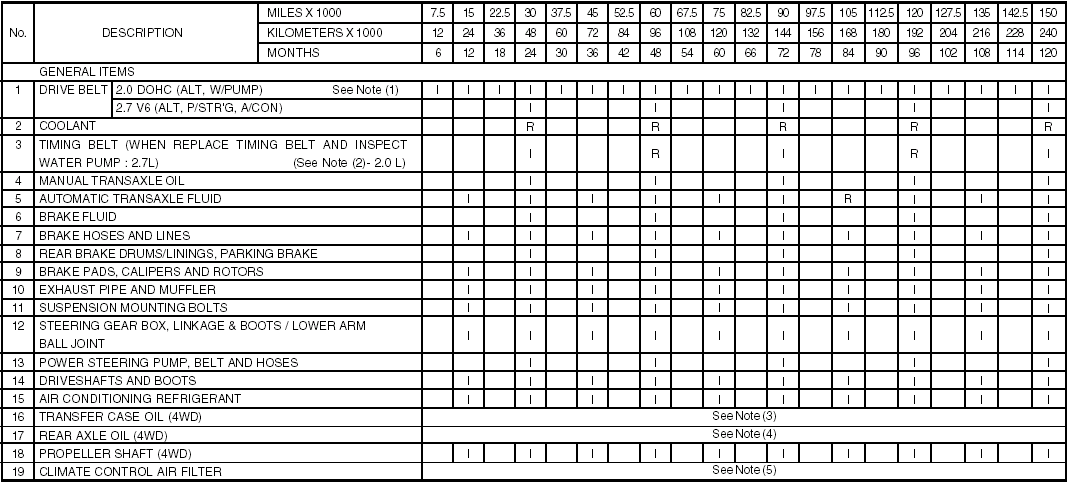 Note : (1) When replace drive belt and inspect water pump.
(2) For every 48 months or 37,200 miles (60,000 km), whichever occurs first : "I"
For every 72 months or 56,000 miles (90,000 km), whichever occurs first : "R" (3) Inspect every 25,000 miles (40,000 km)and replace every 62,000 miles (100,000 km).
(4) lnspect every 25,000 miles (40,000 km) (5) For every 12 months or 10,000 miles (15,000 km) whichever occurs first :"R"
See also:
Electric power steering (EPS)
The power steering uses a motor to assist you in steering the vehicle. If the engine is off or if the power steering system becomes inoperative, the vehicle may still be steered, but it will requi ...
If your vehicle must be towed
If your vehicle has to be towed, it should be done by your Hyundai dealer or a commercial tow truck service. This will help assure that your vehicle is not damaged in towing. Also, professionals a ...
POWER WINDOWS (If Installed)
The power windows operate when the ignition key is in the "ON" position. The main switches are located on the driver's armrest and control the front (4/3 Door) and rear windows (4 ...