Any questions?
If you have any questions about the care of your car, consult your Hyundai dealer.
R : Replace I : Inspect and, after inspection, clean, adjust, repair or replace if necessary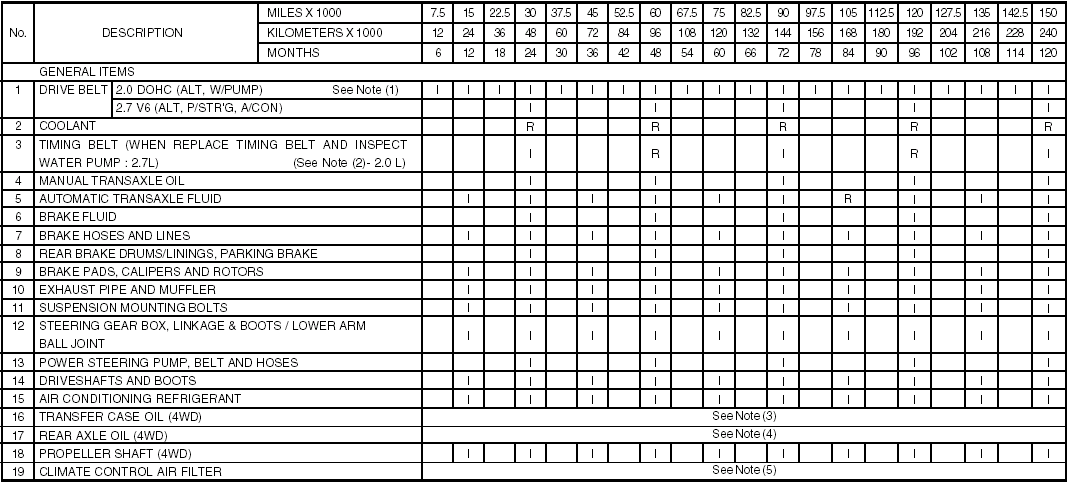 Note : (1) When replace drive belt and inspect water pump.
(2) For every 48 months or 37,200 miles (60,000 km), whichever occurs first : "I"
For every 72 months or 56,000 miles (90,000 km), whichever occurs first : "R" (3) Inspect every 25,000 miles (40,000 km)and replace every 62,000 miles (100,000 km).
(4) lnspect every 25,000 miles (40,000 km) (5) For every 12 months or 10,000 miles (15,000 km) whichever occurs first :"R"
See also:
Don't let your parking brake freeze
Under some conditions your parking brake can freeze in the engaged position. This is most likely to happen when there is an accumulation of snow or ice around or near the rear brakes or if the bra ...
ADVANCED STANDARD SAFETY TECHNOLOGIES: PART OF HYUNDAI'S ASSURANCE COMMITMENT
Hyundai Sonata is built from the ground up with safety in mind, with a hot stamped ultra-high-strength steel body structure, advanced airbag technology and Electronic Stability Control (ESC), deli ...
Replacing Accessory Fuses
The fuse box for the lights and other electrical accessories will be found low on the dashboard on the driver's side. Inside the box you will find a list showing the circuits protected by ea ...