Any questions?
If you have any questions about the care of your car, consult your Hyundai dealer.
R : Replace I : Inspect and, after inspection, clean, adjust, repair or replace if necessary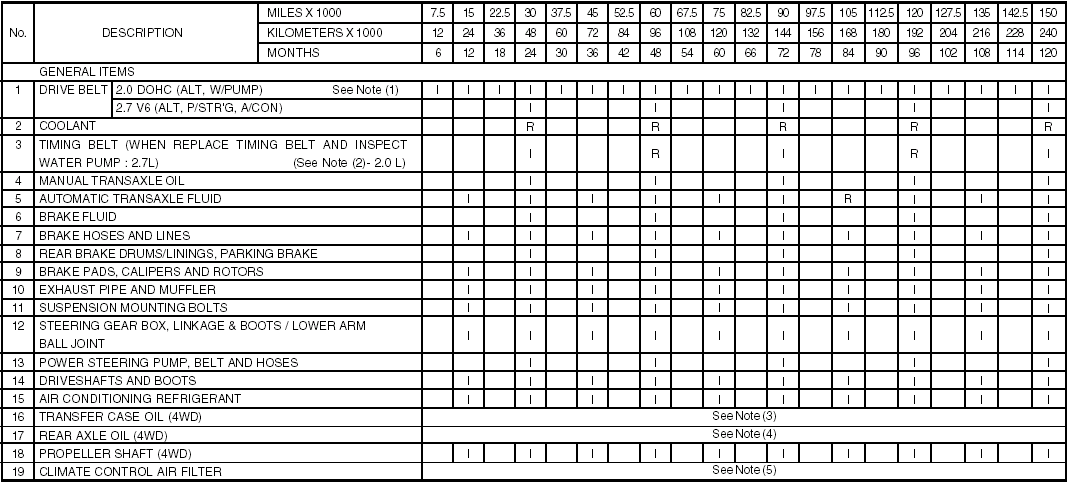 Note : (1) When replace drive belt and inspect water pump.
(2) For every 48 months or 37,200 miles (60,000 km), whichever occurs first : "I"
For every 72 months or 56,000 miles (90,000 km), whichever occurs first : "R" (3) Inspect every 25,000 miles (40,000 km)and replace every 62,000 miles (100,000 km).
(4) lnspect every 25,000 miles (40,000 km) (5) For every 12 months or 10,000 miles (15,000 km) whichever occurs first :"R"
See also:
Change to "Winter Weight" Oil if Necessary
In some climates it is recommended that a lower viscosity "winter weight" oil be used during cold weather. See Section 9 for recommendations. If you aren't sure what weight oil you s ...
Safety
The Hyundai Sonata is one of only two cars on the market that have received both a Top Safety Pick designation from the Insurance Institute for Highway Safety and a five-star overall safety rating ...
Side impact air bag
Your vehicle is equipped with a side impact air bag in each front seat. The purpose of the air bag is to provide the vehicle's driver and/or the front passenger with additional protection ...