Replacing a Fusible Link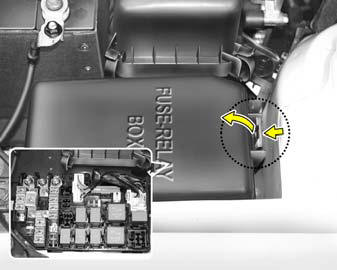 A fusible link will melt if the electrical circuits from the battery are ever overloaded, thus preventing damage to the entire wiring harness. (This could be caused by a short in the system drawing too much current.) If this ever happens, have a Hyundai dealer determine the cause, repair the system and replace the fusible link. The fusible links are located in a relay box for easy inspection.
CAUTION:
When replacing a fusible link, never use anything but a new fusible link with the same or lower amperage rating. Never use a piece of wire or a higherrated fusible link. This could result in serious damage and create a fire hazard.
See also:
ABS Service Reminder Indicator (SRI) (If Installed)
When the key is turned to the "ON" position, the Anti-Lock Brake System SRI will come on and then go off in a few seconds. If the ABS SRI remains on, comes on while driving, or does no ...
Fuel Filter
A clogged filter can limit the speed at which the vehicle may be driven, damage the emission system and cause hard starting. If an excessive amount of foreign matter accumulates in the fuel tank, ...