Replacing a Fusible Link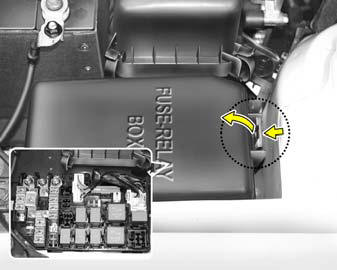 A fusible link will melt if the electrical circuits from the battery are ever overloaded, thus preventing damage to the entire wiring harness. (This could be caused by a short in the system drawing too much current.) If this ever happens, have a Hyundai dealer determine the cause, repair the system and replace the fusible link. The fusible links are located in a relay box for easy inspection.
CAUTION:
When replacing a fusible link, never use anything but a new fusible link with the same or lower amperage rating. Never use a piece of wire or a higherrated fusible link. This could result in serious damage and create a fire hazard.
See also:
Turn Signal Indicator Lights
The blinking green arrow on the instrument panel shows the direction indicated by the turn signals. If the arrow comes on but does not blink, blinks more rapidly than normal, or does not blink a ...
To set cruise control speed
1. Push the CRUISE ON-OFF button on the steering wheel to turn the system on. The CRUISE indicator light in the instrument cluster will illuminate. 2. Accelerate to the desired speed, which must ...
Disarmed Stage
The system will be disarmed when the following step is taken: The doors are unlocked by depressing the "UNLOCK" button on the transmitter or unlocked with the ignition key. After depre ...