Replacing a Fusible Link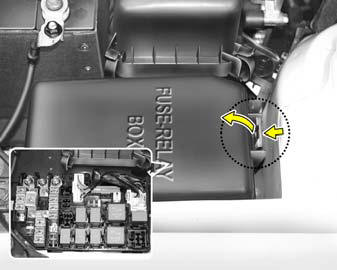 A fusible link will melt if the electrical circuits from the battery are ever overloaded, thus preventing damage to the entire wiring harness. (This could be caused by a short in the system drawing too much current.) If this ever happens, have a Hyundai dealer determine the cause, repair the system and replace the fusible link. The fusible links are located in a relay box for easy inspection.
CAUTION:
When replacing a fusible link, never use anything but a new fusible link with the same or lower amperage rating. Never use a piece of wire or a higherrated fusible link. This could result in serious damage and create a fire hazard.
See also:
Power Steering Pump, Belt and Hoses
Check the power steering pump and hoses for leakage and damage. Replace any damaged or leaking parts immediately. Inspect the power steering belt for evidence of cuts, cracks, excessive wear, oili ...
Key operations
(1) Master key (M) Used to start the engine, lock and unlock the doors, lock and unlock the glove box, and open the trunk. (2) Sub key (S) Used only to start the engine and lock and unlock the doo ...
Checking the washer fluid level
The reservoir is translucent so that you can check the level with a quick visual inspection. Check the fluid level in the washer fluid reservoir and add fluid if necessary. Plain water may be u ...