Replacing a Fusible Link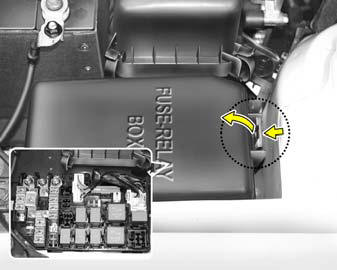 A fusible link will melt if the electrical circuits from the battery are ever overloaded, thus preventing damage to the entire wiring harness. (This could be caused by a short in the system drawing too much current.) If this ever happens, have a Hyundai dealer determine the cause, repair the system and replace the fusible link. The fusible links are located in a relay box for easy inspection.
CAUTION:
When replacing a fusible link, never use anything but a new fusible link with the same or lower amperage rating. Never use a piece of wire or a higherrated fusible link. This could result in serious damage and create a fire hazard.
See also:
All season tires
Hyundai specifies all season tires on some models to provide good performance for use all year round, including snowy and icy road conditions. All season tires are identified by ALL SEASON and/or ...
Roof rack
(If installed) If your Hyundai has a roof rack, you can load things on top of your vehicle. Crossrails and fixing components to adapt the roof rack on your vehicle may be obtained from an author ...
Driving at night
Because night driving presents more hazards than driving in the daylight, here are some important tips to remember: • Slow down and keep more distance between you and other vehicles, as it may ...