Replacing a Fusible Link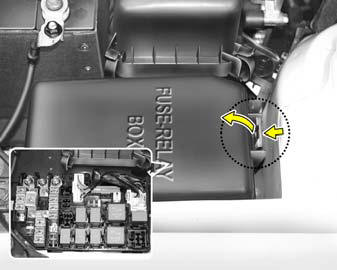 A fusible link will melt if the electrical circuits from the battery are ever overloaded, thus preventing damage to the entire wiring harness. (This could be caused by a short in the system drawing too much current.) If this ever happens, have a Hyundai dealer determine the cause, repair the system and replace the fusible link. The fusible links are located in a relay box for easy inspection.
CAUTION:
When replacing a fusible link, never use anything but a new fusible link with the same or lower amperage rating. Never use a piece of wire or a higherrated fusible link. This could result in serious damage and create a fire hazard.
See also:
Center console conpartment
Center Console Box The center console box is used for storing cassette tapes or small articles. To use the center console box, pull up the handle (1) or (2) lift the lid as shown. WARNING: To ...
Mode selection
The mode selection button controls the direction of the air flow through the ventilation system. The air flow outlet port is converted as follows: Air flow is directed toward the upper body an ...
DIMENSIONAUDIO SYSTEMS
Dimension is a new branded audio system created by Hyundai Mobis and features a Variable Equalizer with normal, dynamic and concert settings. The last generation equalizer provided only one fixed ...