Heating controls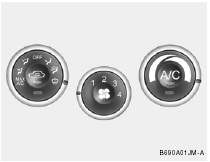 For normal heating operation, set the air intake control to the fresh air (

) position and
the
air flow control to the floor (

)
position.
For faster heating, the air intake control should be set in the recirculate (

) position.

If the windows fog up, set the air flow control to the defrost (

) position. (The A/C will be
on
automatically and "Fresh" mode will be activated.) For maximum heat, rotate the temperature control to "Warm".
See also:
Tire Balancing
A tire that is out of balance may affect handling and tire wear. The tires on your Hyundai were balanced before the car was delivered but may need balancing again during the years you own the car. ...
Electronic stability control (ESC)
The Electronic Stability control (ESC) system is designed to stabilize the vehicle during cornering maneuvers. ESC checks where you are steering and where the vehicle is actually going. ESC applie ...
Air bag warning light
The purpose of air bag warning light in your instrument panel is to alert you of a potential problem with your air bag - Supplemental Restraint System (SRS). When the ignition switch is turned ON ...