Heating controls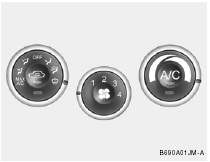 For normal heating operation, set the air intake control to the fresh air (

) position and
the
air flow control to the floor (

)
position.
For faster heating, the air intake control should be set in the recirculate (

) position.

If the windows fog up, set the air flow control to the defrost (

) position. (The A/C will be
on
automatically and "Fresh" mode will be activated.) For maximum heat, rotate the temperature control to "Warm".
See also:
Fuel Filter
A clogged filter can limit the speed at which the vehicle may be driven, damage the emission system and cause hard starting. If an excessive amount of foreign matter accumulates in the fuel tank, ...
Inside rearview mirror
Adjust the rearview mirror so that the center view through the rear window is seen. Make this adjustment before you start driving. WARNING - Rear visibility Do not place objects in the rear seat o ...
Drive Belts
Inspect all drive belts for evidence of cuts, cracks, excessive wear or oil saturation and replace if necessary. Drive belts should be checked periodically for proper tension and adjusted as neces ...