OUTSIDE REARVIEW MIRROR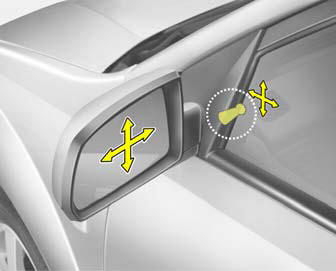 The outside rearview mirrors are equipped with a remote control for your convenience. It is operated by the control lever in the bottom front corner of the window.
Before driving away, always check that your mirrors are positioned so you can see behind you, both to the left and right sides, as well as directly behind your vehicle. When using the mirror, always exercise caution when attempting to judge the distance of vehicles behind or along side of you.
CAUTION:
If the mirror control is jammed with ice, do not attempt to break it free using the control handle or by manipulating the face of the mirror. Use an approved spray de-icer (not radiator antifreeze) to release the frozen mechanism or move the vehicle to a warm place and allow the ice to melt.
See also:
2010 Hyundai Genesis Coupe review by Bill Griffith
The plan was to make a legal U-turn in front of my house. The street is so wide that I'm almost able to make the swing without backing up; unfortunately there's not quite enough room. At this pi ...
Map Light
o Push in the map light switch to turn the light on or off. o Push in the map light switch to turn the light on or off. o "DOOR" In the "DOOR" position, the map light ...
CONFIDENT DRIVING DYNAMICS
The first step toward confident driving dynamics is a rigid structure. To this end, the 2012 Hyundai Accent employs high-tensile strength steel to deliver a strong, light and stiff body which is 2 ...