OUTSIDE REARVIEW MIRROR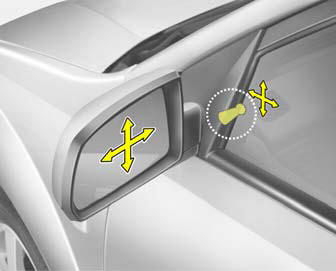 The outside rearview mirrors are equipped with a remote control for your convenience. It is operated by the control lever in the bottom front corner of the window.
Before driving away, always check that your mirrors are positioned so you can see behind you, both to the left and right sides, as well as directly behind your vehicle. When using the mirror, always exercise caution when attempting to judge the distance of vehicles behind or along side of you.
CAUTION:
If the mirror control is jammed with ice, do not attempt to break it free using the control handle or by manipulating the face of the mirror. Use an approved spray de-icer (not radiator antifreeze) to release the frozen mechanism or move the vehicle to a warm place and allow the ice to melt.
See also:
CLIMATE CONTROL AIR FILTER
(For evaporator and blow unit) The climate control air filter is located in front of the evaporator unit behind the glove box. It operates to decrease the amount of pollutants entering the car. ...
Removing and storing the spare tire
Turn the tire hold-down wing bolt counterclockwise. Store the tire in the reverse order of removal. To prevent the spare tire and tools from "rattling" while the vehicle is in motion, store them ...
STEERING WHEEL TILT LEVER
To Adjust the Steering Wheel: 1. Push the lever downward to unlock. 2. Raise or lower the steering wheel to the desired position. 3. After adjustment, securely tighten the lever by pulling it upw ...