OUTSIDE REARVIEW MIRROR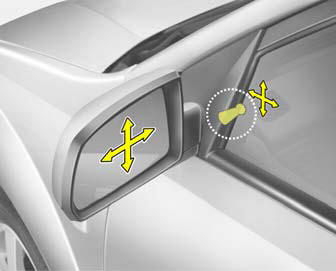 The outside rearview mirrors are equipped with a remote control for your convenience. It is operated by the control lever in the bottom front corner of the window.
Before driving away, always check that your mirrors are positioned so you can see behind you, both to the left and right sides, as well as directly behind your vehicle. When using the mirror, always exercise caution when attempting to judge the distance of vehicles behind or along side of you.
CAUTION:
If the mirror control is jammed with ice, do not attempt to break it free using the control handle or by manipulating the face of the mirror. Use an approved spray de-icer (not radiator antifreeze) to release the frozen mechanism or move the vehicle to a warm place and allow the ice to melt.
See also:
Multi box
To open the cover, press the button and the multibox will automatically open. ...
Overview
Hyundai Motor America introduced the all-new 2012 Hyundai Accent with best-in-class standard fuel economy and power at the 2011 New York International Auto Show. This marks the U.S. debut of the l ...
Power brakes
Your vehicle has power-assisted brakes that adjust automatically through normal usage. In the event that the power-assisted brakes lose power because of a stalled engine or some other reason, you ...