OUTSIDE REARVIEW MIRROR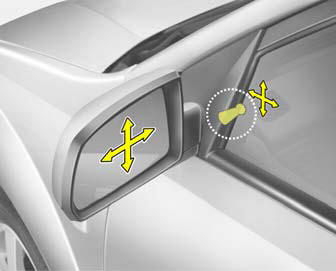 The outside rearview mirrors are equipped with a remote control for your convenience. It is operated by the control lever in the bottom front corner of the window.
Before driving away, always check that your mirrors are positioned so you can see behind you, both to the left and right sides, as well as directly behind your vehicle. When using the mirror, always exercise caution when attempting to judge the distance of vehicles behind or along side of you.
CAUTION:
If the mirror control is jammed with ice, do not attempt to break it free using the control handle or by manipulating the face of the mirror. Use an approved spray de-icer (not radiator antifreeze) to release the frozen mechanism or move the vehicle to a warm place and allow the ice to melt.
See also:
Vehicle Identification Number (VIN)
The vehicle identification number (VIN) is the number used in registering your car and in all legal matters pertaining to its ownership, etc. It can be found in four different places on yo ...
2011 Hyundai Sonata review
I've gotten tired of writing about the next good Hyundai. And according to the late night profanity-laced messages left on my voice mail, so have Detroit readers. So let's just stop acting surpr ...
Light bulbs
WARNING - Working on the lights Prior to working on the light, firmly apply the parking brake, ensure that the ignition switch is turned to the LOCK position and turn off the lights to avoid sudd ...