Rear seat arm rest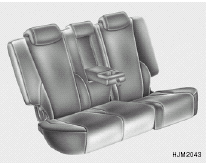 This arm rest is located in the center of the rear seat back.
See also:
Vehicle Exterior
The following should be checked monthly: o Overall appearance and condition o Wheel condition and wheel nut tightness o Exhaust system condition o Light condition and operation o Windshield glass ...
Tire Balancing
A tire that is out of balance may affect handling and tire wear. The tires on your Hyundai were balanced before the car was delivered but may need balancing again during the years you own the car. ...
Electric power steering (EPS)
The power steering uses a motor to assist you in steering the vehicle. If the engine is off or if the power steering system becomes inoperative, the vehicle may still be steered, but it will requi ...