Rear seat arm rest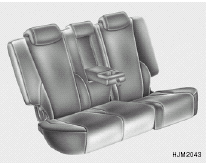 This arm rest is located in the center of the rear seat back.
See also:
Interior
I have so much stuff to juggle when trying to get into any car: a purse, my kids' lunchboxes, swim bags, library books, dry cleaning, a bottle of water and more. This is why I'm such a fan of the ...
2011 Hyundai Elantra review By Scott Burgess
The very first thing I said to myself when I sat down in the 2011 Hyundai Elantra was "Well, this is going to screw things up." For months, I have been advocating that the best compact c ...
Use of E85 fuel
E85 fuel is an alternative fuel composed of 85 percent ethanol and 15 percent gasoline, and is manufactured for use in Flexible Fuel Vehicles. E85 is not compatible with your vehicle. Use of E85 m ...