Ventilation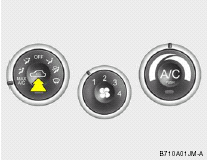 To operate the ventilation system: o Set the air intake control to "Fresh" mode (

).

o To direct all intake air to the dashboard vents, set the airflow control to "Face" (

).

o Adjust the fan speed control to the desired speed.
o Set the temperature control between "Cool" and "Warm".
Operation Tips
o To keep dust or unpleasant fumes from entering the car through the ventilation system, temporarily set the air intake control to (

).

Be sure to return the control to (

) when
the irritation has passed to keep fresh air in the vehicle. This will help keep the driver alert and comfortable.
o Air for the heating/cooling system is drawn in through the grilles just ahead of the windshield.
Care should be taken that these are not blocked by leaves, snow, ice or other obstructions.
o To prevent interior fog on the windshield, set the air intake control to the fresh air (

)
position, fan speed to the desired position, turn on the air conditioning system, and adjust temperature control to desired temperature.
See also:
Snowy or Icy Conditions
To drive your vehicle in deep snow, it may be necessary to use snow tires or to install tire chains on your tires. If snow tires are needed, it is necessary to select tires equivalent in size and ...
Good braking practices
WARNING • Whenever you leave or park your vehicle, always set the parking brake as far as possible and fully engage the vehicle's transaxle into the P (Park) position. If the parking brake is ...
Winter driving
More severe weather conditions of winter result in greater wear and other problems. To minimize winter driving problem, you should follow these suggestions: ...