Ventilation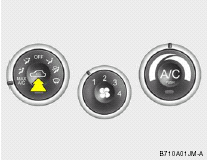 To operate the ventilation system: o Set the air intake control to "Fresh" mode (

).

o To direct all intake air to the dashboard vents, set the airflow control to "Face" (

).

o Adjust the fan speed control to the desired speed.
o Set the temperature control between "Cool" and "Warm".
Operation Tips
o To keep dust or unpleasant fumes from entering the car through the ventilation system, temporarily set the air intake control to (

).

Be sure to return the control to (

) when
the irritation has passed to keep fresh air in the vehicle. This will help keep the driver alert and comfortable.
o Air for the heating/cooling system is drawn in through the grilles just ahead of the windshield.
Care should be taken that these are not blocked by leaves, snow, ice or other obstructions.
o To prevent interior fog on the windshield, set the air intake control to the fresh air (

)
position, fan speed to the desired position, turn on the air conditioning system, and adjust temperature control to desired temperature.
See also:
Canister
Fuel vapors generated inside the fuel tank are absorbed and stored in the onboard canister. When the engine is running, the fuel vapors absorbed in the canister are drawn into the induction system ...
Lane Change Signal
To indicate a lane change, move the lever up or down to a point where it begins flashing. The lever will automatically return to the center position when released. ...
Climate control air filter (in front of blower unit)
(If installed) The climate control air filter is located in front of the blower unit behind the glove box. It operates to decrease the amount of pollutants entering the car. CAUTION: o Replace ...