Ventilation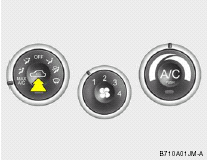 To operate the ventilation system: o Set the air intake control to "Fresh" mode (

).

o To direct all intake air to the dashboard vents, set the airflow control to "Face" (

).

o Adjust the fan speed control to the desired speed.
o Set the temperature control between "Cool" and "Warm".
Operation Tips
o To keep dust or unpleasant fumes from entering the car through the ventilation system, temporarily set the air intake control to (

).

Be sure to return the control to (

) when
the irritation has passed to keep fresh air in the vehicle. This will help keep the driver alert and comfortable.
o Air for the heating/cooling system is drawn in through the grilles just ahead of the windshield.
Care should be taken that these are not blocked by leaves, snow, ice or other obstructions.
o To prevent interior fog on the windshield, set the air intake control to the fresh air (

)
position, fan speed to the desired position, turn on the air conditioning system, and adjust temperature control to desired temperature.
See also:
Snow Tires
If you equip your car with snow tires, they should be the same size and have the same load capacity as the original tires. Snow tires should be installed on all four wheels; otherwise, poor handli ...
Checking the Brake Fluid Level
WARNING: Use caution when handling brake fluid. It can damage your vision if it gets into your eyes. It will also damage your vehicle's paint if spilled on it and not removed immediately. ...
License plate light bulb replacement
1. Loosen the retaining screws with a philips head screwdriver. 2. Remove the soket by turning it connterclockwise. 3. Remove the bulb by pulling it straight out. 4. Install a new bulb. 5. Reins ...