Ventilation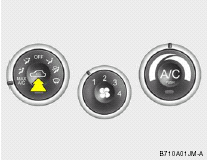 To operate the ventilation system: o Set the air intake control to "Fresh" mode (

).

o To direct all intake air to the dashboard vents, set the airflow control to "Face" (

).

o Adjust the fan speed control to the desired speed.
o Set the temperature control between "Cool" and "Warm".
Operation Tips
o To keep dust or unpleasant fumes from entering the car through the ventilation system, temporarily set the air intake control to (

).

Be sure to return the control to (

) when
the irritation has passed to keep fresh air in the vehicle. This will help keep the driver alert and comfortable.
o Air for the heating/cooling system is drawn in through the grilles just ahead of the windshield.
Care should be taken that these are not blocked by leaves, snow, ice or other obstructions.
o To prevent interior fog on the windshield, set the air intake control to the fresh air (

)
position, fan speed to the desired position, turn on the air conditioning system, and adjust temperature control to desired temperature.
See also:
Washing Your Hyundai
Never wash your car when the surface is hot from being in the sun. Always wash your car in the shade. Wash your car frequently. Dirt is abrasive and can scratch the paint if it is not removed. Ai ...
Exterior
The original Genesis was an understated sedan. The attractive grille — sans the Hyundai "H" logo — was probably the most unique feature. For 2012 you'd have to say the redesigned headlig ...
BIGGER CHANGES INSIDE AND ON THE ROAD
The Accent's interior is much simpler than the Fiesta, lacking the SYNC integration and offering fewer buttons and more intuitive controls. Hyundai insists that the interior is a "premium" offerin ...