Front door edge warning light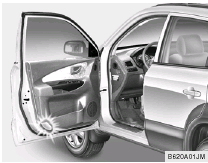 A red light comes on when the front door is opened. The purpose of this light is to assist when you get in or out and also to warn passing vehicles.
See also:
If engine doesn't turn over or turns over slowly
1. If your vehicle has an automatic transaxle, be sure the shift lever is in N (Neutral) or P (Park) and the emergency brake is set. 2. Check the battery connections to be sure they are clean and t ...
Don't let your parking brake freeze
Under some conditions your parking brake can freeze in the engaged position. This is most likely to happen when there is an accumulation of snow or ice around or near the rear brakes or if the bra ...
22,500 miles (36,000 km) or 18 months
❑ Inspect air cleaner filter ❑ Inspect vacuum hose ❑ Replace engine oil and filter (22,500 miles (36,000 km) or 36 months) ...