Spare tire and tools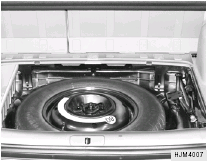 Your Hyundai is delivered with the following: Spare tire and wheel.
Wheel nut wrench, Wrench bar.
Jack.
See also:
2010 Hyundai Genesis Coupe review by Bill Griffith
The plan was to make a legal U-turn in front of my house. The street is so wide that I'm almost able to make the swing without backing up; unfortunately there's not quite enough room. At this pi ...
Vehicle Identification Number (VIN)
The vehicle identification number (VIN) is the number used in registering your car and in all legal matters pertaining to its ownership, etc. It can be found in four different places on yo ...
2011 Hyundai Sonata Hybrid review
In the world of hybrids, there are two schools of thought: You can buy a Toyota Prius — a hard-core, 50-mpg hybrid with funky styling and a utilitarian interior — or you can pay more and get less- ...