How to use luggage room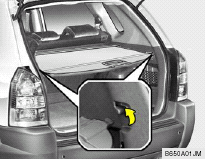 CARGO SECURITY SCREEN (If installed)
To use the security screen, pull it out of the retractor and hook it to the anchors as illustrated.
Stowage Precautions 1. Do not place objects on the cargo security screen. Such objects may be thrown about inside the vehicle and possibly injure vehicle occupants during an accident or when braking.
2. For better fuel economy, do not carry unnecessary weight.
3. Never allow anyone to ride in the luggage compartment. It is designed for luggage only.
4. Try to maintain the balance of the vehicle and locate the weight as far forward as possible.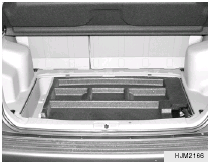 Luggage Under Tray
There is a multipurpose tray under the luggage mat.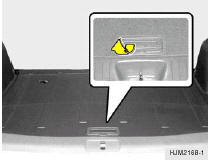 Raise the luggage under tray cover with the grip.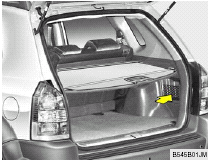 Luggage Side Trim
There are small article trays in the luggage side trim.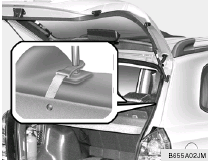 Covering screen (If Installed)
Covering shelf screen veils the luggage room to hang the screen hook to a headrest pole.
While not in use, place the screen hook to the hook holder.
CAUTION:
When folding the rear seatback forward, remove the hook from the headrest pole.
Otherwise, the covering screen may be damaged or malformed.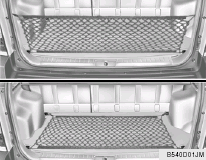 Luggage Net (If Installed)
Some objects can be kept in the net in the luggage compartment.
Use the luggage net on the floor or at the back of the luggage compartment to prevent objects from sliding.
CAUTION:
To prevent damage to the goods or the vehicle, care should be taken when carrying fragile or bulky objects in the luggage compartment.
WARNING:
Avoid eye injury. DO NOT overstretch. ALWAYS keep face and body out of its path.
DO NOT use when the luggage net straps have visible signs of wear or damage.
See also:
Check Fuel Filler Cap Warning Light
This warning light indicates the fuel filler cap is not tight securely. Always make sure that the fuel filler cap is tight. ...
Tilt steering
Tilt steering allows you to adjust the steering wheel before you drive. You can also raise it to give your legs more room when you exit and enter the vehicle. The steering wheel should be positione ...
Risk of rollover
WARNING: o The 2WD Tucson is not designed for offroad use. The 4WD Tucson is designed primarily for use on paved roads. However, occasional use in off-highway conditions such as established unpav ...