Digital clock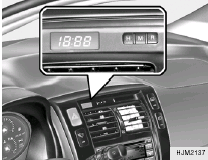 There are three control buttons for the digital clock. Their functions are:
HOUR
- Push "H" to advance the hour indicated.
MIN
- Push "M" to advance the minute indicated.
RESET
- Push "R" to reset minutes to ":00" to facilitate resetting the clock to the correct time.
When this is done:
Pressing "R" between 10 : 30 and 11 : 29 changes the readout to 11 : 00.
Pressing "R" between 11 : 30 and 12 : 29 changes the readout to 12 : 00.
Push the "R" button for 5 seconds to display a 12- or 24-hour clock (If installed).
See also:
Tire chains
Tire chains, if necessary, should be installed on the front wheels. Be sure that the chains are installed in accordance with the manufacturer's instructions. To minimize tire and chain wear, do ...
Maintenance under Severe Usage Conditions
The following items must be serviced more frequently on cars normally used under severe driving conditions. Refer to the chart below for the appropriate maintenance intervals. R : Replace I : Ins ...
Exterior
The original Genesis was an understated sedan. The attractive grille — sans the Hyundai "H" logo — was probably the most unique feature. For 2012 you'd have to say the redesigned headlig ...