Digital clock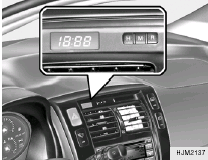 There are three control buttons for the digital clock. Their functions are:
HOUR
- Push "H" to advance the hour indicated.
MIN
- Push "M" to advance the minute indicated.
RESET
- Push "R" to reset minutes to ":00" to facilitate resetting the clock to the correct time.
When this is done:
Pressing "R" between 10 : 30 and 11 : 29 changes the readout to 11 : 00.
Pressing "R" between 11 : 30 and 12 : 29 changes the readout to 12 : 00.
Push the "R" button for 5 seconds to display a 12- or 24-hour clock (If installed).
See also:
Rear Brake Drums/Linings, Parking Brake
Check the rear brake drums and linings for scoring, burning, leaking fluid, broken parts, and excessive wear. Inspect the parking brake system including the parking brake lever and cables. For det ...
Why didn't my air bag go off in a collision? (Inflation and non-inflation conditions of the air bag)
There are many types of accidents in which the air bag would not be expected to provide additional protection. These include rear impacts, second or third collisions in multiple impact accidents, ...
FUN-TO-DRIVE
The 2010 Hyundai Tucson's athletic shape is now complemented with more agile handling, responsive steering and improved body roll control. These enhancements make the new Tucson more fun-to-drive. ...