Digital clock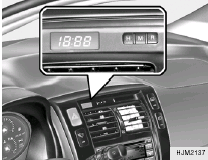 There are three control buttons for the digital clock. Their functions are:
HOUR
- Push "H" to advance the hour indicated.
MIN
- Push "M" to advance the minute indicated.
RESET
- Push "R" to reset minutes to ":00" to facilitate resetting the clock to the correct time.
When this is done:
Pressing "R" between 10 : 30 and 11 : 29 changes the readout to 11 : 00.
Pressing "R" between 11 : 30 and 12 : 29 changes the readout to 12 : 00.
Push the "R" button for 5 seconds to display a 12- or 24-hour clock (If installed).
See also:
3. Exhaust emission control system
The Exhaust Emission Control System is a highly effective system which controls exhaust emissions while maintaining good vehicle performance. Vehicle modifications This vehicle should not be modif ...
Windshield Washer Operation
To use the windshield washer, pull the wiper/washer lever toward the steering wheel. When the washer lever is operated, the wipers automatically make three passes across the windshield. The was ...
Vehicle data collection and event data recorders
This vehicle is equipped with an event data recorder (EDR). The main purpose of an EDR is to record, in certain crash or near crash-like situations, such as an air bag deployment or hitting a road ...