Digital clock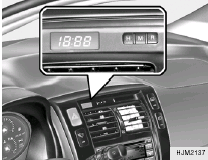 There are three control buttons for the digital clock. Their functions are:
HOUR
- Push "H" to advance the hour indicated.
MIN
- Push "M" to advance the minute indicated.
RESET
- Push "R" to reset minutes to ":00" to facilitate resetting the clock to the correct time.
When this is done:
Pressing "R" between 10 : 30 and 11 : 29 changes the readout to 11 : 00.
Pressing "R" between 11 : 30 and 12 : 29 changes the readout to 12 : 00.
Push the "R" button for 5 seconds to display a 12- or 24-hour clock (If installed).
See also:
SRS Care
The SRS is virtually maintenance-free and there are no parts you can safely service by yourself. If the SRS "AIR BAG" warning light does not illuminate, or continuously remains on, have ...
Air intake control
This is used to select outside (fresh) air position or recirculated air position. To change the air intake control position, push the control button. Recirculated air position ...
Gasoline containing alcohol and methanol
Gasohol, a mixture of gasoline and ethanol (also known as grain alcohol), and gasoline or gasohol containing methanol (also known as wood alcohol) are being marketed along with or instead of leade ...