Digital clock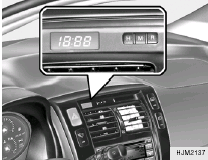 There are three control buttons for the digital clock. Their functions are:
HOUR
- Push "H" to advance the hour indicated.
MIN
- Push "M" to advance the minute indicated.
RESET
- Push "R" to reset minutes to ":00" to facilitate resetting the clock to the correct time.
When this is done:
Pressing "R" between 10 : 30 and 11 : 29 changes the readout to 11 : 00.
Pressing "R" between 11 : 30 and 12 : 29 changes the readout to 12 : 00.
Push the "R" button for 5 seconds to display a 12- or 24-hour clock (If installed).
See also:
Immobilizer system (if equipped)
Your vehicle is equipped with an electronic engine immobilizer system to reduce the risk of unauthorized vehicle use. Your immobilizer system is comprised of a small transponder in the ignition key ...
Performance
There's a choice of three engines in the Genesis, as opposed to the V-6 and V-8 originally offered. Upgraded for 2012, the 3.8-liter base V-6 now makes 333 horsepower, up from 290 hp, while the 4. ...
Rear Brake Drums/Linings, Parking Brake
Check the rear brake drums and linings for scoring, burning, leaking fluid, broken parts, and excessive wear. Inspect the parking brake system including the parking brake lever and cables. For det ...