Digital clock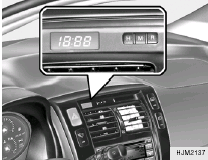 There are three control buttons for the digital clock. Their functions are:
HOUR
- Push "H" to advance the hour indicated.
MIN
- Push "M" to advance the minute indicated.
RESET
- Push "R" to reset minutes to ":00" to facilitate resetting the clock to the correct time.
When this is done:
Pressing "R" between 10 : 30 and 11 : 29 changes the readout to 11 : 00.
Pressing "R" between 11 : 30 and 12 : 29 changes the readout to 12 : 00.
Push the "R" button for 5 seconds to display a 12- or 24-hour clock (If installed).
See also:
Operating the Manual Transaxle
Your Hyundai's manual transaxle has five forward gears and one reverse gear. This shift pattern is also imprinted on the shift knob. The transaxle is fully synchronized in all forward gears ...
Engine Compartment
1. Engine coolant reservoir 2. Engine oil filler cap 3. Brake fluid reservoir 4. Air cleaner filter 5. Windshield washer fluid reservoir cap 6. Power steering fluid reservoir (If Installed) 7. ...
2012 Hyundai Accent Review
Considering how much of a wretched piece of junk the old Hyundai Accent was, improving on the car (once known for being offered at a sub-$10,000 sticker price) was an easy task. With such a strong ...