Digital clock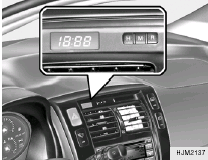 There are three control buttons for the digital clock. Their functions are:
HOUR
- Push "H" to advance the hour indicated.
MIN
- Push "M" to advance the minute indicated.
RESET
- Push "R" to reset minutes to ":00" to facilitate resetting the clock to the correct time.
When this is done:
Pressing "R" between 10 : 30 and 11 : 29 changes the readout to 11 : 00.
Pressing "R" between 11 : 30 and 12 : 29 changes the readout to 12 : 00.
Push the "R" button for 5 seconds to display a 12- or 24-hour clock (If installed).
See also:
Front Brake Disc/Pads, Calipers
Check the pads for excessive wear, discs for run out and wear, and calipers for fluid leakage. ...
Snowy or icy conditions
To drive your vehicle in deep snow, it may be necessary to use snow tires or to install tire chains on your tires. If snow tires are needed, it is necessary to select tires equivalent in size and ...
Turn Signal Indicator Lights
The blinking green arrow on the instrument panel shows the direction indicated by the turn signals. If the arrow comes on but does not blink, blinks more rapidly than normal, or does not blink a ...