Digital clock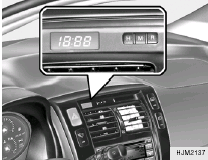 There are three control buttons for the digital clock. Their functions are:
HOUR
- Push "H" to advance the hour indicated.
MIN
- Push "M" to advance the minute indicated.
RESET
- Push "R" to reset minutes to ":00" to facilitate resetting the clock to the correct time.
When this is done:
Pressing "R" between 10 : 30 and 11 : 29 changes the readout to 11 : 00.
Pressing "R" between 11 : 30 and 12 : 29 changes the readout to 12 : 00.
Push the "R" button for 5 seconds to display a 12- or 24-hour clock (If installed).
See also:
Engine Coolant Temperature Warning Light
WARNING: Never remove the radiator cap when the engine is hot. The engine coolant is under pressure and could erupt and cause severe burns. Wait until the engine is cool before removing the rad ...
Automatic-dimming function
Your mirror will automatically dim upon detecting glare from the vehicles traveling behind you. The auto-dimming function can be controlled by the Dimming ON/OFF Button: 1. Pressing the button turn ...
Truckish performance
Interior noise aside, the Santa Fe performed well on the road. The ride is feels more truckish than carlike. The bumps are hard, and on the highway, I never felt confident in this vehicle. The pow ...