Digital clock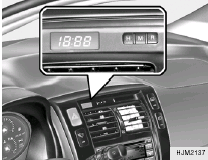 There are three control buttons for the digital clock. Their functions are:
HOUR
- Push "H" to advance the hour indicated.
MIN
- Push "M" to advance the minute indicated.
RESET
- Push "R" to reset minutes to ":00" to facilitate resetting the clock to the correct time.
When this is done:
Pressing "R" between 10 : 30 and 11 : 29 changes the readout to 11 : 00.
Pressing "R" between 11 : 30 and 12 : 29 changes the readout to 12 : 00.
Push the "R" button for 5 seconds to display a 12- or 24-hour clock (If installed).
See also:
Tire pressure monitoring system (TPMS)
(1) Low tire pressure telltale / TPMS malfunction indicator Each tire, including the spare (if provided), should be checked monthly when cold and inflated to the inflation pressure recommended by ...
Side impact air bag
Your vehicle is equipped with a side impact air bag in each front seat. The purpose of the air bag is to provide the vehicle's driver and/or the front passenger with additional protection ...
2007 Hyundai Santa Fe review
If we were to pick the best redesigned SUVs for 2007, Hyundai's Santa Fe would be among the finalists. The overhaul gives new life to a model that was desperately in need of an update to stay comp ...