Hazard warning system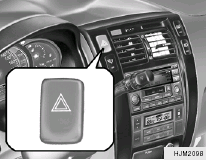 The hazard warning system should be used whenever you find it necessary to stop the car in a hazardous location. When you must make such an emergency stop, always pull off the road as far as possible.
The hazard warning lights are turned on by pushing in the hazard switch. This causes all turn signal lights to blink. The hazard warning lights will operate even though the key is not in the ignition.
To turn the hazard warning lights off, push the switch a second time.
See also:
REAR SEAT ENTRY (3 Door)
The front passenger's seatback should be tilted to enter the rear seat. By pulling up on the recliner control lever (1) at the outside of the front passenger's seat, the seatback will til ...
Don't let your parking brake freeze
Under some conditions your parking brake can freeze in the engaged position. This is most likely to happen when there is an accumulation of snow or ice around or near the rear brakes or if the bra ...
Temperature control
The temperature control knob allows you to control the temperature of the air flowing from the ventilation system. To change the air temperature in the passenger compartment, turn the knob to th ...