Hazard warning system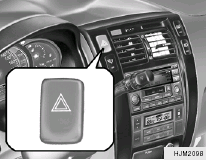 The hazard warning system should be used whenever you find it necessary to stop the car in a hazardous location. When you must make such an emergency stop, always pull off the road as far as possible.
The hazard warning lights are turned on by pushing in the hazard switch. This causes all turn signal lights to blink. The hazard warning lights will operate even though the key is not in the ignition.
To turn the hazard warning lights off, push the switch a second time.
See also:
Resetting the sunroof
Whenever the vehicle battery is disconnected or discharged, you have to reset your sunroof system as follows: 1. Turn the ignition key to the "ON" position. 2. Press the TILT UP button f ...
Changing a Flat Tire
The procedure described on the following pages can be used to rotate tires as well as to change a flat tire. When preparing to change a flat tire, check to be sure the gear selector lever is in ...
Filter replacement
It must be replaced when necessary, and should not be cleaned and reused. You can clean the filter when inspecting the air cleaner element. Clean the filter by using compressed air. 1. Loosen ...