Hazard warning system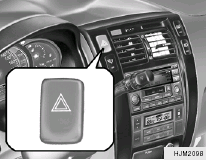 The hazard warning system should be used whenever you find it necessary to stop the car in a hazardous location. When you must make such an emergency stop, always pull off the road as far as possible.
The hazard warning lights are turned on by pushing in the hazard switch. This causes all turn signal lights to blink. The hazard warning lights will operate even though the key is not in the ignition.
To turn the hazard warning lights off, push the switch a second time.
See also:
Air Flow Control
This is used to direct the flow of air. Air can be directed to the floor, instrument panel outlets, or windshield. Five symbols are used to represent Face, Bi- Level, Floor, Floor-Defrost and De ...
Tire sidewall labeling
This information identifies and describes the fundamental characteristics of the tire and also provides the tire identification number (TIN) for safety standard certification. The TIN can be use ...
Windshield wiper blades
The wiper blades should be carefully inspected from time to time and cleaned to remove accumulations of road film or other debris. To clean the wiper blades and arms, use a clean sponge or cloth ...