Adjusting Seatback Angle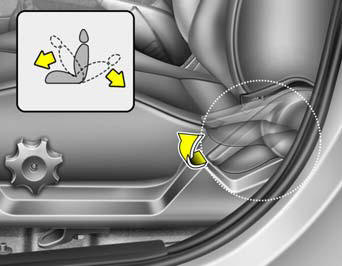 To recline the seatback, lean forward to take your weight off it, then pull up on the recliner control lever at the outside edge of the seat. Now lean back until the desired seatback angle is achieved. To lock the seatback into position, release the recliner control lever.
WARNING:
Riding with a reclined seatback increases your chance of serious or fatal injuries in the event of a collision or sudden stop. The protection of your restraint system (seat belts and airbags) is greatly reduced by reclining your seat. Seat belts must be snug against your hips and chest to work properly. The more the seatback is reclined, the greater the chance that an occupant's hips will slide under the lap belt or the occupant's neck will strike the shoulder belt. Drivers and passengers should always sit well back in their seats, properly belted, and with the seatbacks upright.
See also:
Operating the automatic transaxle
The highly efficient Hyundai automatic transaxle has four forward speeds and one reverse speed. The individual speeds are selected automatically, depending on the position of the speed selector ...
If the Engine Overheats
If your temperature gauge indicates overheating, you experience a loss of power, or hear loud pinging or knocking, the engine is probably too hot. If this happens, you should: 1. Pull off the roa ...
To turn cruise control off, do one of the following
o Push the CRUISE ON-OFF button (the CRUISE indicator light in the instrument cluster will go off). o Turn the ignition off. Both of these actions cancel cruise control operation. If you want to ...