Recommended Engine Coolant
When adding coolant, use only deionized water or soft water for your vehicle and never mix hard water in the coolant filled at the factory. An improper coolant mixture can result in serious malfunction or engine damage.
Use a high quality ethylene-glycol coolant in a 50/50 mix with water. The engine coolant should be compatible with aluminum engine parts. Additional corrosion inhibitors or additives should not be used. The cooling system must be maintained with the correct concentration and type of engine coolant to prevent freezing and corrosion.
Never allow the concentration of antifreeze to exceed the 60% level or go below the 35% level or damage to the coolant system may result. For proper concentration when adding or replacing the coolant, refer to the following table.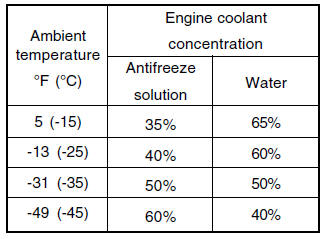 See also:
Using the Clutch
The clutch should be pressed all the way to the floor before shifting, then released slowly. Do not rest your foot on the clutch pedal while driving. This can cause unnecessary wear. Do not parti ...
Fuel lines, fuel hoses and connections
Check the fuel lines, fuel hoses and connections for leakage and damage. Have an authorized HYUNDAI dealer replace any damaged or leaking parts immediately. ...
FLUIDIC SCULPTURE DESIGN
The 2012 Hyundai Accent joins the Hyundai line-up sporting the company's increasingly popular "Fluidic Sculpture" design. The vehicle's exterior lines are intended to be futuristic, dyna ...