Recommended Engine Coolant
When adding coolant, use only deionized water or soft water for your vehicle and never mix hard water in the coolant filled at the factory. An improper coolant mixture can result in serious malfunction or engine damage.
Use a high quality ethylene-glycol coolant in a 50/50 mix with water. The engine coolant should be compatible with aluminum engine parts. Additional corrosion inhibitors or additives should not be used. The cooling system must be maintained with the correct concentration and type of engine coolant to prevent freezing and corrosion.
Never allow the concentration of antifreeze to exceed the 60% level or go below the 35% level or damage to the coolant system may result. For proper concentration when adding or replacing the coolant, refer to the following table.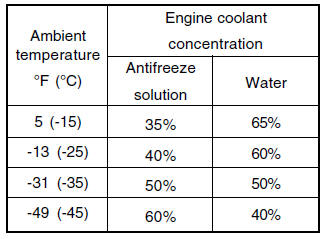 See also:
Vehicle load limit
Tire and Loading Information Label Type A Type B Type C The tire label located on the driver's side of the center pillar outer panel gives the original tire size, cold tire pressures reco ...
TACHOMETER
The tachometer registers the speed of your engine in revolutions per minute (rpm). CAUTION: The engine should not be increased to such a speed that the needle enters the red zone on the tachomet ...
Sunglass holder
To open the sunglass holder, press the cover and the holder will slowly open. Place your sunglasses in the compartment door with the lenses facing out. Push to close. WARNING • Do not keep obj ...