Recommended Engine Coolant
When adding coolant, use only deionized water or soft water for your vehicle and never mix hard water in the coolant filled at the factory. An improper coolant mixture can result in serious malfunction or engine damage.
Use a high quality ethylene-glycol coolant in a 50/50 mix with water. The engine coolant should be compatible with aluminum engine parts. Additional corrosion inhibitors or additives should not be used. The cooling system must be maintained with the correct concentration and type of engine coolant to prevent freezing and corrosion.
Never allow the concentration of antifreeze to exceed the 60% level or go below the 35% level or damage to the coolant system may result. For proper concentration when adding or replacing the coolant, refer to the following table.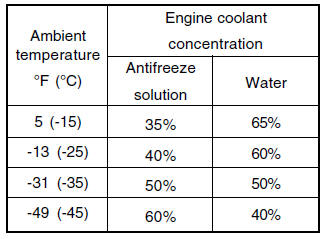 See also:
Seats
Driver's seat 1. Seat forward/rearward lock release lever 2. Seatback recliner control lever 3. Seat cushion height control lever Front passenger's seat 4. Seat forward/rearward lock release le ...
Storage compartments
These compartments can be used to store small items. CAUTION • To avoid possible theft, do not leave valuables in the storage compartments. • Always keep the storage compartment covers closed while ...
Engine compartment
1. Engine coolant reservoir 2. Engine oil filler cap 3. Brake fluid reservoir 4. Air cleaner 5. Fuse box 6. Positive battery terminal 7. Negative battery terminal 8. Windshield washer fluid r ...