Recommended Engine Coolant
When adding coolant, use only deionized water or soft water for your vehicle and never mix hard water in the coolant filled at the factory. An improper coolant mixture can result in serious malfunction or engine damage.
Use a high quality ethylene-glycol coolant in a 50/50 mix with water. The engine coolant should be compatible with aluminum engine parts. Additional corrosion inhibitors or additives should not be used. The cooling system must be maintained with the correct concentration and type of engine coolant to prevent freezing and corrosion.
Never allow the concentration of antifreeze to exceed the 60% level or go below the 35% level or damage to the coolant system may result. For proper concentration when adding or replacing the coolant, refer to the following table.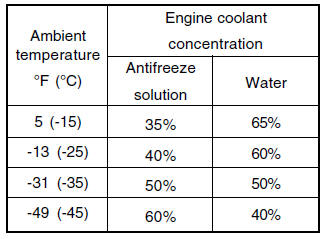 See also:
Emission control system
The emission control system of your vehicle is covered by a written limited warranty. Please see the warranty information contained in the Owner's Handbook & Warranty Information booklet in yo ...
All season tires
Hyundai specifies all season tires on some models to provide good performance for use all year round, including snowy and icy road conditions. All season tires are identified by ALL SEASON and/or ...
2011 Hyundai Sonata review
Hyundai's redesigned Sonata sedan has exploded onto the market to become one of the most popular cars available, period. It's the best example of how a good-looking product at a competitive price ...