Recommended Engine Coolant
When adding coolant, use only deionized water or soft water for your vehicle and never mix hard water in the coolant filled at the factory. An improper coolant mixture can result in serious malfunction or engine damage.
Use a high quality ethylene-glycol coolant in a 50/50 mix with water. The engine coolant should be compatible with aluminum engine parts. Additional corrosion inhibitors or additives should not be used. The cooling system must be maintained with the correct concentration and type of engine coolant to prevent freezing and corrosion.
Never allow the concentration of antifreeze to exceed the 60% level or go below the 35% level or damage to the coolant system may result. For proper concentration when adding or replacing the coolant, refer to the following table.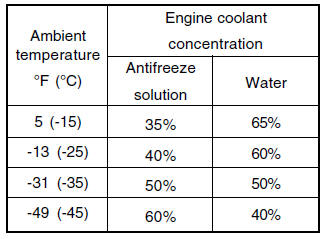 See also:
Engine Compartment
The following should be checked regularly: o Engine oil level and condition o Transaxle fluid level and condition o Brake fluid level o Clutch fluid level o Engine coolant level o Windshield was ...
Used Hyundai Accent Models
The current-generation Hyundai Accent dates back to 2006, when it was introduced in sedan body style only -- the two-door hatchback arrived a year later. There was a slight bump in fuel economy fo ...
Tire sidewall labeling
Federal law requires tire manufacturers to place standardized information on the sidewall of all tires. This information identifies and describes the fundamental characteristics of the tire and ...