De-Humidified Heating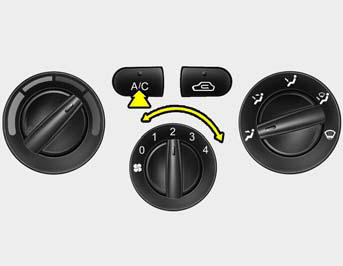 For dehumidified heating:
o Turn on the fan control switch.
o Push the air conditioning switch. The air conditioning indicator light should come on at the same time.
o Set the air intake control switch to the fresh air (

)
position.
o Adjust the fan control to the desired speed.
o For more rapid action, set the fan at one of the higher speeds.
o Adjust the temperature control to provide the desired amount of warmth.
Operation Tips
o If the interior of the car is hot when you first get in, open the windows for a few minutes to expel the hot air.
o When you are using the air conditioning system, keep all windows closed to keep hot air out.
o When moving slowly, as in heavy traffic, shift to a lower gear. This increases engine speed, which in turn increases the speed of the air conditioning compressor.
o On steep grades, turn the air conditioning off to avoid the possibility of the engine overheating.
o During winter months or in periods when the air conditioning is not used regularly, run the air conditioning once every month for a few minutes. This will help circulate the lubricants and keep your system in peak operating condition.
See also:
Electronic stability control (ESC) system
(If installed) WARNING: Never drive too fast for the road conditions or too quickly when cornering. Electronic stability control (ESC) will not prevent accidents. Excessive speed in turns, abrupt ...
Breaking in your new Hyundai
No formal "break-in" procedure is required with your new Hyundai. However, you can contribute to the economical operation and durability of your Hyundai by observing the following recomme ...
Checking the Transaxle Oil (Manual)
Transaxle lubricant in the manual transaxle should be checked at those intervals specified in the vehicle maintenance schedule in Section 5. WARNING: It is always better to check the transaxle oil ...