De-Humidified Heating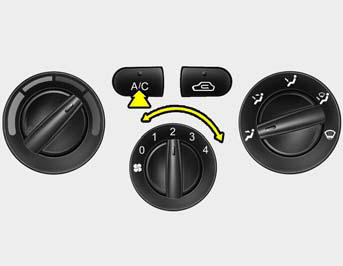 For dehumidified heating:
o Turn on the fan control switch.
o Push the air conditioning switch. The air conditioning indicator light should come on at the same time.
o Set the air intake control switch to the fresh air (

)
position.
o Adjust the fan control to the desired speed.
o For more rapid action, set the fan at one of the higher speeds.
o Adjust the temperature control to provide the desired amount of warmth.
Operation Tips
o If the interior of the car is hot when you first get in, open the windows for a few minutes to expel the hot air.
o When you are using the air conditioning system, keep all windows closed to keep hot air out.
o When moving slowly, as in heavy traffic, shift to a lower gear. This increases engine speed, which in turn increases the speed of the air conditioning compressor.
o On steep grades, turn the air conditioning off to avoid the possibility of the engine overheating.
o During winter months or in periods when the air conditioning is not used regularly, run the air conditioning once every month for a few minutes. This will help circulate the lubricants and keep your system in peak operating condition.
See also:
Changing Wheels
Loosen the wheel nuts and remove them with your fingers. Slide the wheel off the studs and lay it flat so it cannot roll away. To put the wheel on the hub, pick up the spare tire, line up the ho ...
If engine doesn't turn over or turns over slowly
1. If your vehicle has an automatic transaxle, be sure the shift lever is in N (Neutral) or P (Park) and the emergency brake is set. 2. Check the battery connections to be sure they are clean and t ...
Keep Your Garage Dry
Don't park your car in a damp, poorly ventilated garage. This creates a favorable environment for corrosion. This is particularly true if you wash your car in the garage or drive it into the g ...