De-Humidified Heating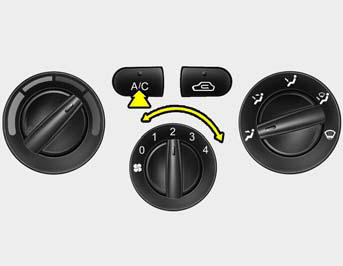 For dehumidified heating:
o Turn on the fan control switch.
o Push the air conditioning switch. The air conditioning indicator light should come on at the same time.
o Set the air intake control switch to the fresh air (

)
position.
o Adjust the fan control to the desired speed.
o For more rapid action, set the fan at one of the higher speeds.
o Adjust the temperature control to provide the desired amount of warmth.
Operation Tips
o If the interior of the car is hot when you first get in, open the windows for a few minutes to expel the hot air.
o When you are using the air conditioning system, keep all windows closed to keep hot air out.
o When moving slowly, as in heavy traffic, shift to a lower gear. This increases engine speed, which in turn increases the speed of the air conditioning compressor.
o On steep grades, turn the air conditioning off to avoid the possibility of the engine overheating.
o During winter months or in periods when the air conditioning is not used regularly, run the air conditioning once every month for a few minutes. This will help circulate the lubricants and keep your system in peak operating condition.
See also:
DEFROSTING/DEFOGGING
Use the heating/ventilation system to defrost or defog the windshield: To remove interior fog on the windshield: o Set the air flow control to the defrost () position (The A/C will automatically ...
Vehicle Interior
The following should be checked each time when the vehicle is driven: o Light operation o Windshield wiper operation o Horn operation o Defroster, heater system operation (and air conditioning, if ...
Low Tire Pressure Telltale (If Installed)
The low tire pressure telltale comes on for 3 seconds after the ignition key is turned to the "ON" position. If the warning light does not come on, or continuously remains on after comm ...