De-Humidified Heating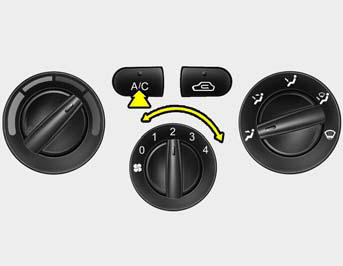 For dehumidified heating:
o Turn on the fan control switch.
o Push the air conditioning switch. The air conditioning indicator light should come on at the same time.
o Set the air intake control switch to the fresh air (

)
position.
o Adjust the fan control to the desired speed.
o For more rapid action, set the fan at one of the higher speeds.
o Adjust the temperature control to provide the desired amount of warmth.
Operation Tips
o If the interior of the car is hot when you first get in, open the windows for a few minutes to expel the hot air.
o When you are using the air conditioning system, keep all windows closed to keep hot air out.
o When moving slowly, as in heavy traffic, shift to a lower gear. This increases engine speed, which in turn increases the speed of the air conditioning compressor.
o On steep grades, turn the air conditioning off to avoid the possibility of the engine overheating.
o During winter months or in periods when the air conditioning is not used regularly, run the air conditioning once every month for a few minutes. This will help circulate the lubricants and keep your system in peak operating condition.
See also:
Change to "winter weight" oil if necessary
In some climates it is recommended that a lower viscosity "winter weight" oil be used during cold weather. See section 8 for recommendations. If you aren't sure what weight oil you s ...
If engine stalls while driving
1. Reduce your speed gradually, keeping a straight line. Move cautiously off the road to a safe place. 2. Turn on your emergency flashers. 3. Try to start the engine again. If your vehicle will no ...
Prices & Features
There are only two trim levels for the 2.0T: SE and Limited. Pricing starts at $24,145 and $27,045, respectively. For the SE, that's a $1,550 price difference over the base's 200-hp four-cylinder ...