Checking the clutch fluid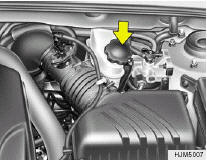 To Check the Clutch Fluid
The clutch fluid level in the master cylinder should be checked when performing other under hood services. The system should be checked for leakage at the same time. Check to make certain that the clutch fluid level is always between the "MAX" and "MIN" level markings on the fluid reservoir. Fill as required.
Fluid loss indicates a leak in the clutch system which should be inspected and repaired immediately.
Consult your Hyundai dealer.
To Replace the Fluid
Recommended brake fluid conforming to DOT 3 or DOT 4 specification should be used. The reservoir cap must be fully tightened to avoid contamination from foreign matter or moisture.
NOTE:
Do not allow any other liquids to contaminate the brake fluid. Seal damage will result.
WARNING:
Use caution when handling brake fluid. It can damage your vision if you get it in your eyes. It will also damage your vehicle's paint if spilled on it and not removed immediately.
See also:
AUX, USB AND iPod® PORT
If your vehicle has an aux and/or USB(universal serial bus) port or iPod port, you can use an aux port to connect audio devices, a USB port to plug in a USB, and an iPod port to plug in an iPod. ...
Features
Hyundai isn't succeeding these days just because its cars are improving. The brand is also keeping prices low with impressive content levels. That continues here. The base GLS sedan is the least ...
2012 Hyundai Elantra review By Steven Cole Smith
Just as Hyundai did with the new Sonata -- which matches and in many ways surpasses its top competition in the midsized category, the Honda Accord and Toyota Corolla -- the Korean company is hopin ...