Checking the clutch fluid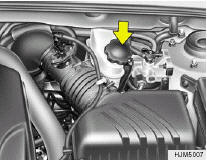 To Check the Clutch Fluid
The clutch fluid level in the master cylinder should be checked when performing other under hood services. The system should be checked for leakage at the same time. Check to make certain that the clutch fluid level is always between the "MAX" and "MIN" level markings on the fluid reservoir. Fill as required.
Fluid loss indicates a leak in the clutch system which should be inspected and repaired immediately.
Consult your Hyundai dealer.
To Replace the Fluid
Recommended brake fluid conforming to DOT 3 or DOT 4 specification should be used. The reservoir cap must be fully tightened to avoid contamination from foreign matter or moisture.
NOTE:
Do not allow any other liquids to contaminate the brake fluid. Seal damage will result.
WARNING:
Use caution when handling brake fluid. It can damage your vision if you get it in your eyes. It will also damage your vehicle's paint if spilled on it and not removed immediately.
See also:
DIMENSIONAUDIO SYSTEMS
Dimension is a new branded audio system created by Hyundai Mobis and features a Variable Equalizer with normal, dynamic and concert settings. The last generation equalizer provided only one fixed ...
SAFETY
The 2011 Sonata has been named a Top Safety Pick by the Insurance Institute for Highway Safety. To earn this safety nod, a car must receive the top score of Good in front-, side-impact, rear and r ...
Handling the Spare Tire
Remove the installation bolt to remove the spare tire. To replace the spare tire in its storage compartment, tighten the bolt firmly with your fingers until there is no more play in the spare ti ...