Checking the clutch fluid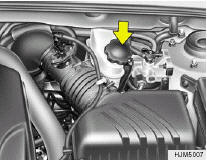 To Check the Clutch Fluid
The clutch fluid level in the master cylinder should be checked when performing other under hood services. The system should be checked for leakage at the same time. Check to make certain that the clutch fluid level is always between the "MAX" and "MIN" level markings on the fluid reservoir. Fill as required.
Fluid loss indicates a leak in the clutch system which should be inspected and repaired immediately.
Consult your Hyundai dealer.
To Replace the Fluid
Recommended brake fluid conforming to DOT 3 or DOT 4 specification should be used. The reservoir cap must be fully tightened to avoid contamination from foreign matter or moisture.
NOTE:
Do not allow any other liquids to contaminate the brake fluid. Seal damage will result.
WARNING:
Use caution when handling brake fluid. It can damage your vision if you get it in your eyes. It will also damage your vehicle's paint if spilled on it and not removed immediately.
See also:
ESC OFF usage
When driving • ESC should be turned on for daily driving whenever possible. • To turn ESC off while driving, press the ESC OFF button while driving on a flat road surface. Never press the ESC OFF ...
Unlocking
Using the door handle switch Press the button of the driver's outside door handle with all doors closed and locked, unlocks the driver's door. The hazard warning lights will blink and the chime w ...
Имущественное страхование и договор
Человеку всегда было присуще желание как-то обезопасить себя от вредоносных последствий жизни или хотя бы попытаться свести их к минимуму. Для одних это связано с опасной работой, где высока доля р ...