Checking the clutch fluid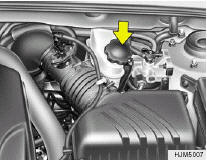 To Check the Clutch Fluid
The clutch fluid level in the master cylinder should be checked when performing other under hood services. The system should be checked for leakage at the same time. Check to make certain that the clutch fluid level is always between the "MAX" and "MIN" level markings on the fluid reservoir. Fill as required.
Fluid loss indicates a leak in the clutch system which should be inspected and repaired immediately.
Consult your Hyundai dealer.
To Replace the Fluid
Recommended brake fluid conforming to DOT 3 or DOT 4 specification should be used. The reservoir cap must be fully tightened to avoid contamination from foreign matter or moisture.
NOTE:
Do not allow any other liquids to contaminate the brake fluid. Seal damage will result.
WARNING:
Use caution when handling brake fluid. It can damage your vision if you get it in your eyes. It will also damage your vehicle's paint if spilled on it and not removed immediately.
See also:
Child Restraint System Installation on Rear Seat Center Position
Use the center seat belt for the rear seat to secure the child restraint system as illustrated. After installation of the child restraint system, rock the child seat back and forth, and side to ...
Seats
ADJUSTABLE FRONT SEATS WARNING: o Never adjust the driver's seat while the vehicle is moving. Any sudden or unexpected movement of the seat could cause you to lose control of the vehicle resultin ...
Elantra in the Market
The recently redesigned Sonata family sedan has been a breakout success for Hyundai. It gave families a stylish, fuel-efficient, value-packed alternative to the traditional heavyweights in its seg ...