Checking the clutch fluid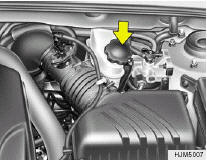 To Check the Clutch Fluid
The clutch fluid level in the master cylinder should be checked when performing other under hood services. The system should be checked for leakage at the same time. Check to make certain that the clutch fluid level is always between the "MAX" and "MIN" level markings on the fluid reservoir. Fill as required.
Fluid loss indicates a leak in the clutch system which should be inspected and repaired immediately.
Consult your Hyundai dealer.
To Replace the Fluid
Recommended brake fluid conforming to DOT 3 or DOT 4 specification should be used. The reservoir cap must be fully tightened to avoid contamination from foreign matter or moisture.
NOTE:
Do not allow any other liquids to contaminate the brake fluid. Seal damage will result.
WARNING:
Use caution when handling brake fluid. It can damage your vision if you get it in your eyes. It will also damage your vehicle's paint if spilled on it and not removed immediately.
See also:
Side impact and curtain air bags
Side impact and curtain air bags are designed to inflate when an impact is detected by side collision sensors depending on the strength, speed or angles of impact resulting from a side impact ...
Daytime running light (if equipped)
Daytime Running Lights (DRL) can make it easier for others to see the front of your vehicle during the day. DRL can be helpful in many different driving conditions, and it is especially helpful af ...
Sunshade
The sunshade will be opened with the glass panel automatically when the glass panel is slid.You will have to close it manually if you want it closed. CAUTION The sunroof is made to slide togethe ...