Checking the clutch fluid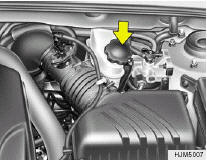 To Check the Clutch Fluid
The clutch fluid level in the master cylinder should be checked when performing other under hood services. The system should be checked for leakage at the same time. Check to make certain that the clutch fluid level is always between the "MAX" and "MIN" level markings on the fluid reservoir. Fill as required.
Fluid loss indicates a leak in the clutch system which should be inspected and repaired immediately.
Consult your Hyundai dealer.
To Replace the Fluid
Recommended brake fluid conforming to DOT 3 or DOT 4 specification should be used. The reservoir cap must be fully tightened to avoid contamination from foreign matter or moisture.
NOTE:
Do not allow any other liquids to contaminate the brake fluid. Seal damage will result.
WARNING:
Use caution when handling brake fluid. It can damage your vision if you get it in your eyes. It will also damage your vehicle's paint if spilled on it and not removed immediately.
See also:
Efficiency & Drivability
Automakers have been racing to produce small cars that get great gas mileage using conventional engines, and Hyundai has succeeded on that front with the 2011 Elantra, which is powered by a new 14 ...
Adjusting Your Seat Belt
WARNING: You should place the lap belt portion as low as possible and snugly across your hips, not on your waist. If the lap belt is located too high on your waist, it may increase the chance o ...
Exterior
The two-door hatchback Accent is kind of cute, kind of sporty and a little dorky. Some folks I came across liked it; others just weren't offended by it. The sedan's styling is much more conservati ...