Checking the clutch fluid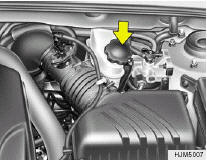 To Check the Clutch Fluid
The clutch fluid level in the master cylinder should be checked when performing other under hood services. The system should be checked for leakage at the same time. Check to make certain that the clutch fluid level is always between the "MAX" and "MIN" level markings on the fluid reservoir. Fill as required.
Fluid loss indicates a leak in the clutch system which should be inspected and repaired immediately.
Consult your Hyundai dealer.
To Replace the Fluid
Recommended brake fluid conforming to DOT 3 or DOT 4 specification should be used. The reservoir cap must be fully tightened to avoid contamination from foreign matter or moisture.
NOTE:
Do not allow any other liquids to contaminate the brake fluid. Seal damage will result.
WARNING:
Use caution when handling brake fluid. It can damage your vision if you get it in your eyes. It will also damage your vehicle's paint if spilled on it and not removed immediately.
See also:
Removal and installation (If Installed)
To remove the headrest, raise it as far as it can go then press the release button (1) while pulling upward (2). To reinstall the headrest, put the headrest poles (3) into the holes while pressin ...
Digital clock (if equipped)
WARNING Do not adjust the clock while driving. You may lose your steering control and cause an accident that results in severe personal injury or death. Whenever the battery terminals or related ...
To install the wiper blade
1. Put a new wiper blade onto the wiper arm and lower the wiper blade at the level of the wiper arm as shown in the drawing. 2. Pull up the wiper blade until you hear an audible "click&quo ...