Temperature Control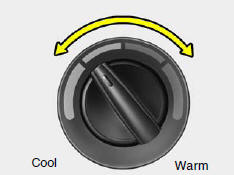 This control is used to adjust the degree of heating or cooling desired.
See also:
Catalytic Converter
Hyundai vehicle is equipped with a monolith type three-way catalytic converter to reduce the carbon monoxide, hydrocarbons and nitrogen oxides contained in the exhaust gas. Exhaust gases passing ...
If you lose your keys
If you lose your keys, many Hyundai dealers can make you a new key if you have your key number. If you lock the keys inside your car and you cannot obtain a new key, many Hyundai dealers can use s ...
Cargo
The coupe has a traditional trunk that measures 10 cubic feet, which is enough room to accommodate three golf bags. You can create more cargo room by folding down the rear seatback, which is relea ...