Headrest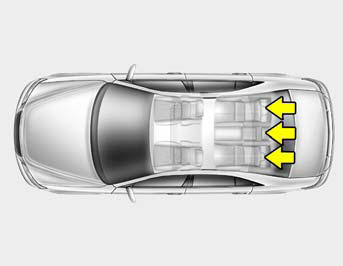 The rear seat(s) is equipped with headrests in all the seating positions for the occupant's safety and comfort.
The headrest not only provides comfort for passengers, but also helps to protect the head and neck in the event of a collision.
WARNING:
o For maximum effectiveness in case of an accident, the headrest should be adjusted so the middle of the headrest is at the same height as the center of gravity of an occupant's head. Generally, the center of gravity of most people's head is similar with the height of the top of their eyes. Also, adjust the headrest as close to your head as possible. The use of a cushion that holds the body away from the seatback is not recommended.
o Do not operate the vehicle with the headrests removed as severe injury to an occupant may occur in the event of an accident. Headrests may provide protection against severe neck injuries when properly adjusted.
See also:
Cruise control system
1 CRUISE indicator 2 SET indicator The cruise control system allows you to program the vehicle to maintain a constant speed without resting your foot on the accelerator pedal. This system is des ...
2009 Hyundai Accent review
In a world of economic instability, any new car that can tout a sub-$10,000 starting price has a lot going for it. OK, it has exactly one thing going for it: It's cheap. But that doesn't necessarily ...
FLUIDIC SCULPTURE DESIGN
The 2012 Hyundai Accent joins the Hyundai line-up sporting the company's increasingly popular "Fluidic Sculpture" design. The vehicle's exterior lines are intended to be futuristic, dyna ...