Adjusting the height up and down (If Installed)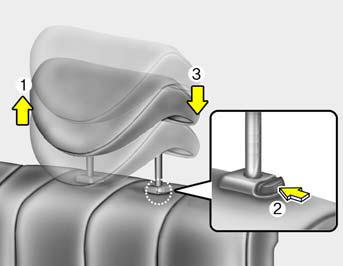 To raise the headrest, pull it up to the desired position (1). To lower the headrest, push and hold the release button (2) on the headrest support and lower the headrest to the desired position (3).
See also:
Checking the Engine Oil
Engine oil is essential to the performance and service of the engine. It is suggested that you check the oil level at least once a week in normal use and more often if you are on a trip or driving ...
Adding Brake Fluid
WARNING: Handle brake fluid carefully. It can damage your vision if it gets into your eyes. Use only DOT 3 or DOT 4 specification fluid from a sealed container. Do not allow the fluid can or rese ...
Tilt steering
Tilt steering allows you to adjust the steering wheel before you drive. You can also raise it to give your legs more room when you exit and enter the vehicle. The steering wheel should be positione ...