Front fog light (if equipped)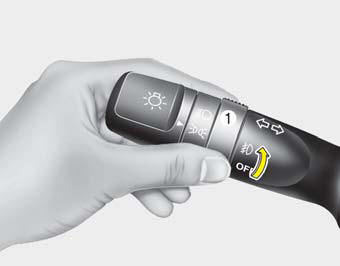 Fog lights are used to provide improved visibility when visibility is poor due to fog, rain or snow etc. The fog lights will turn on when fog light switch (1) is turned to ON after the headlights are turned on. To turn off the fog lights, turn the switch to OFF.
CAUTION
When in operation, the fog lights consume large amounts of vehicle electrical power. Only use the fog lights when visibility is poor or unnecessary battery and generator drain could occur.
See also:
Tire balancing
A tire that is out of balance may affect handling and tire wear. The tires on your Hyundai were balanced before the car was delivered but may need balancing again during the years you own the car. ...
Review: 2012 Hyundai Accent GLS Sedan
The Hyundai Accent has never been a Уgotta have itФ sort of car. Instead, itТs been a УwhatТs the cheapest thing you got?Ф sort of car. The 2011 started at just $9,985 (plus shipping and handling) ...
Cigarette lighter
For the cigarette lighter to work, the key must be in the "ACC" position or the "ON" position. To use the cigarette lighter, push it all the way into its socket. When the elem ...