Removal and installation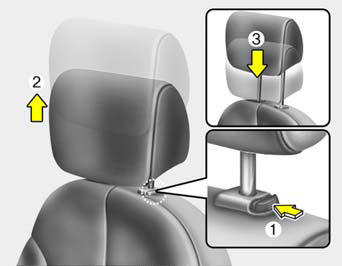 To remove the headrest, raise it as far as it can go then press the release button (1) while pulling upward (2).
To reinstall the headrest, put the headrest poles (3) into the holes while pressing the release button (1). Then adjust it to the appropriate height.
WARNING:
Make sure the headrest locks in position after adjusting it to properly protects the occupants.
See also:
Recommended Engine Coolant
When adding coolant, use only deionized water or soft water for your vehicle and never mix hard water in the coolant filled at the factory. An improper coolant mixture can result in serious malfun ...
Instrument panel fuse replacement
1. Turn the ignition switch and all other switches off. 2. Open the fuse panel cover. 3. Pull the suspected fuse straight out. Use the removal tool provided in the engine compartment fuse pane ...
Performance
There's a lot to like about the turbo drivetrain, with its 274 horsepower and six-speed automatic transmission, but before I talk about power I should say that the Sonata 2.0T really shines becaus ...