Removal and installation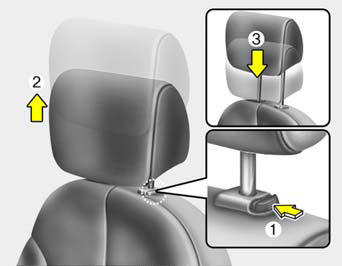 To remove the headrest, raise it as far as it can go then press the release button (1) while pulling upward (2).
To reinstall the headrest, put the headrest poles (3) into the holes while pressing the release button (1). Then adjust it to the appropriate height.
WARNING:
Make sure the headrest locks in position after adjusting it to properly protects the occupants.
See also:
How to Use Front Towing Hook
(1)Open the towing hole cover by pushing it with your finger. (2)Take out the towing hook from the jack case. To mount the towing hook, rotate it clockwise. NOTE: The jack case is located on ...
Trunk lid control switch
The trunk lid control switch is used to prevent unauthorized access to the trunk. • When the trunk lid control switch is UNLOCK position ( ), the trunk can be unlocked with the trunk lid release ...
Checking the clutch fluid
To Check the Clutch Fluid The clutch fluid level in the master cylinder should be checked when performing other under hood services. The system should be checked for leakage at the same time. Ch ...