Sunroof (if equipped)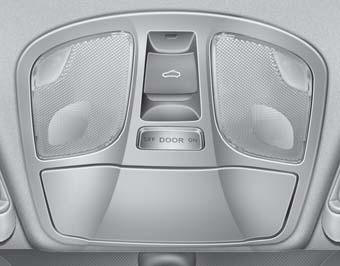 If your vehicle is equipped with a sunroof, you can slide or tilt your sunroof with the sunroof control switch located on the overhead console.
The sunroof can only be opened, closed, or tilted when the ignition switch is in the ON position.
NOTICE
• In cold and wet climates, the sunroof may not work properly due to freezing conditions.
• After washing the car or after there is rain, be sure to wipe off any water that is on the sunroof before operating it.
CAUTION
Do not continue to move the sunroof control lever after the sunroof is in the fully open, closed, or tilt position. Damage to the motor or system components could occur.
NOTICE
The sunroof cannot slide when it is in the tilt position nor can it be tilted while in an open or slide position.
WARNING
Never adjust the sunroof or sunshade while driving. This could result in loss of control and an accident that may cause death, serious injury, or property damage.
See also:
2010 Hyundai Tucson review by By Scott Burgess
It has spent nearly two decades repairing and then polishing its reputation. In the past, critics, including myself, have accused it of copying designs and then dulling them up. Some vehicles had ...
Care of seat belts
Seat belt systems should never be disassembled or modified. In addition, care should be taken to assure that seat belts and belt hardware are not damaged by seat hinges, doors or other abuse. WAR ...
Checking the Transaxle Fluid (Automatic)
Transaxle fluid in the automatic transaxle should be checked at those intervals specified in the vehicle maintenance schedule in Section 5. NOTE: Automatic transaxle fluid is basically a red color ...