Sunroof (if equipped)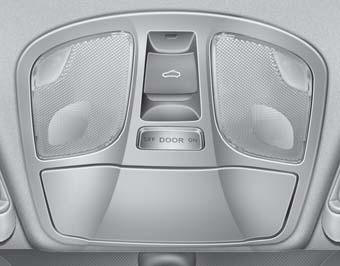 If your vehicle is equipped with a sunroof, you can slide or tilt your sunroof with the sunroof control switch located on the overhead console.
The sunroof can only be opened, closed, or tilted when the ignition switch is in the ON position.
NOTICE
• In cold and wet climates, the sunroof may not work properly due to freezing conditions.
• After washing the car or after there is rain, be sure to wipe off any water that is on the sunroof before operating it.
CAUTION
Do not continue to move the sunroof control lever after the sunroof is in the fully open, closed, or tilt position. Damage to the motor or system components could occur.
NOTICE
The sunroof cannot slide when it is in the tilt position nor can it be tilted while in an open or slide position.
WARNING
Never adjust the sunroof or sunshade while driving. This could result in loss of control and an accident that may cause death, serious injury, or property damage.
See also:
Changing the Air Cleaner Filter
The replacement of air cleaner filter is performed in the following manner. 1. Unsnap the clips around the cover. 2. When this is done, the cover can be lifted off, the old filter removed and the ...
If Engine Doesn't Turn Over or Turns Over Slowly
1. If your car has an automatic transaxle, be sure the gear selector lever is in "N" or "P" and the emergency brake is set. 2. Check the battery connections to be sure they ar ...
Risk of rollover
WARNING: o The 2WD Tucson is not designed for offroad use. The 4WD Tucson is designed primarily for use on paved roads. However, occasional use in off-highway conditions such as established unpav ...