FRONT SEATS. Adjusting Seat Forward and Rear- ! ward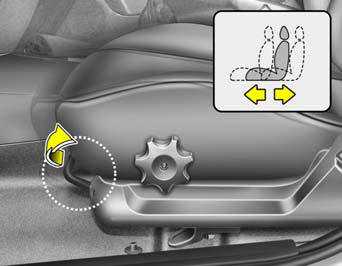 To move the seat toward the front or rear, pull the lock release lever upward. This will release the seat on its track so you can move it forward or rearward to the desired position.
When you find the position you want, release the lever and slide the seat forward or rearward on its track until it locks into the desired position and cannot be moved further.
WARNING:
After adjusting the seat, always check that it is securely locked into place by attempting to move the seat forward or rearward without using the lock release lever. Sudden or unexpected movement of the driver's seat could cause you to lose control of the vehicle resulting in an accident.
See also:
Changing the Climate Control Air Filter
The climate control air filter is located in front of the evaporator unit behind the glove box. It helps to decrease the amount of pollutants entering the car. 1. Open the glove box and remove t ...
Brake Fluid
Check brake fluid level in the brake fluid reservoir. The level should be between "MIN" and "MAX" marks on the side of the reservoir. ...
Vacuum, Crankcase Ventilation Hoses
Inspect the surface of hoses for evidence of heat and/or mechanical damage. Hard and brittle rubber, cracking, tears, cuts, abrasions, and excessive swelling indicate deterioration. Particular att ...