How to Use Front Towing Hook
(1)Open the towing hole cover by pushing it with your finger.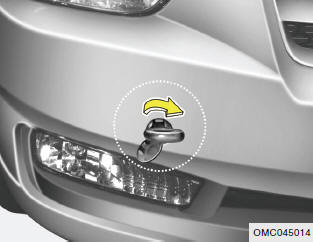 (2)Take out the towing hook from the jack case. To mount the towing hook, rotate it clockwise.
NOTE:
The jack case is located on the spare tire in the trunk or luggage compartment.
CAUTION
It should be tightened firmly with your fingers until there is no more play in the towing hole. Towing hook is located in the jack case on the spare tire.
(3)Attach a tow cable, chain or strap to the towing hook on the front bumper.
NOTE:
Place the towing hook & towing hole cover in its original position when not in use.
CAUTION:
- Automatic Transaxle o If the car is being towed with all four wheels on the ground, it can be towed only from the front. Be sure that the transaxle is in neutral. Be sure the steering is unlocked by placing the ignition switch in the ACC position. A driver must be in the towed vehicle to operate the steering and brakes.
o To avoid serious damage to the automatic transaxle, limit the vehicle speed to 10 mph (15 km/h) and drive less than 1 mile (1.5 km) when towing.
See also:
Changing the air cleaner filter
To change the filter, unsnap the clips around the cover. When this is done, the cover can be lifted off, the old filter removed and the new filter put in its place. Genuine Hyundai Replacement P ...
Replacement of Light Bulbs
Before attempting to replace a light bulb, be sure the switch is turned to the "OFF" position. The next paragraph shows how to reach the light bulbs so they may be changed. Be sure to r ...
2012 Hyundai Accent review
A few years ago the subcompact class was supposed to take over the auto industry. There was a slew of small cars with low sticker prices and decent efficiency, power and features. While all of them ...