Locking from Outside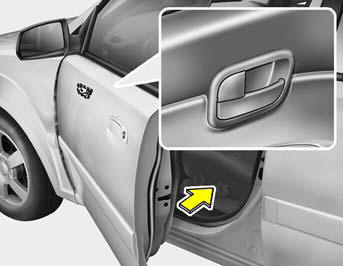 The doors can be locked without a key. To lock the doors, first push the inside lock switch to the "LOCK" position so that the red mark on the switch is not visible, then close the door.
NOTE:
o When pushing the lock switch of the passenger's door to the "LOCK" position, all doors can be locked.
o If your vehicle is equipped with the central door locking system, the door will not lock if the key is left in the ignition switch when the front doors are closed.
o When locking the door from outside, be careful not to lock the door with the ignition key left in the vehicle.
o To protect against theft, always remove the ignition key, close all windows, and lock all doors and the trunk lid (4 Door) / tail gate (3 Door) when leaving your vehicle unattended.
See also:
SUN VISOR
Your Hyundai is equipped with sun visors to give the driver and front passenger either frontal or sideward shade. To reduce glare or to shut out direct rays of the sun, turn the sun visor down. ...
Keys
For greater convenience, the same key operates all the locks in your Hyundai. However, because the doors can be locked without a key, carrying a spare key is recommended in case you accidentally ...
Tire maintenance
In addition to proper inflation, correct wheel alignment helps to decrease tire wear. If you find a tire is worn unevenly, have your dealer check the wheel alignment. When you have new tires insta ...