Locking from Outside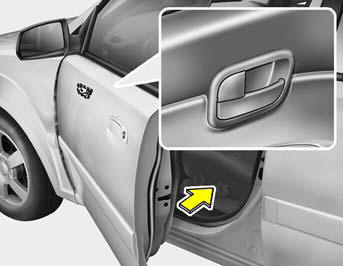 The doors can be locked without a key. To lock the doors, first push the inside lock switch to the "LOCK" position so that the red mark on the switch is not visible, then close the door.
NOTE:
o When pushing the lock switch of the passenger's door to the "LOCK" position, all doors can be locked.
o If your vehicle is equipped with the central door locking system, the door will not lock if the key is left in the ignition switch when the front doors are closed.
o When locking the door from outside, be careful not to lock the door with the ignition key left in the vehicle.
o To protect against theft, always remove the ignition key, close all windows, and lock all doors and the trunk lid (4 Door) / tail gate (3 Door) when leaving your vehicle unattended.
See also:
Sun Shade
Your HYUNDAI is equipped with a sliding sunshade which you can manually adjust to let in light with the sunroof closed, or to block sunlight. WARNING: Never adjust the sunshade while driving. Th ...
TPMS (Tire Pressure Monitoring System) malfunction indicator
The TPMS malfunction indicator will illuminate after it blinks for approximately one minute when there is a problem with the Tire Pressure Monitoring System. If the system is able to correctly d ...
2010 Hyundai Genesis Coupe review by Jim Mateja
The 2009 Hyundai Genesis sedan surprised many when it captured the North American Car of the Year award from the nation's automotive wordsmiths. Hyundai had won a loyal, if limited, following in t ...