Locking from Outside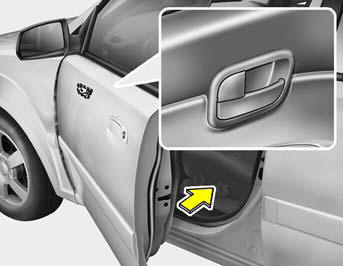 The doors can be locked without a key. To lock the doors, first push the inside lock switch to the "LOCK" position so that the red mark on the switch is not visible, then close the door.
NOTE:
o When pushing the lock switch of the passenger's door to the "LOCK" position, all doors can be locked.
o If your vehicle is equipped with the central door locking system, the door will not lock if the key is left in the ignition switch when the front doors are closed.
o When locking the door from outside, be careful not to lock the door with the ignition key left in the vehicle.
o To protect against theft, always remove the ignition key, close all windows, and lock all doors and the trunk lid (4 Door) / tail gate (3 Door) when leaving your vehicle unattended.
See also:
FRONT DRINK HOLDER
The drink holder is located on the main console for holding cups or cans. WARNING: o Use caution when using the drink holders. A spilled beverage that is very hot can injure you or your passenge ...
Brake discs, pads, calipers and rotors
Check the pads for excessive wear, discs for run out and wear, and calipers for fluid leakage. ...
Manual Transaxle Shift Indicator (If Installed)
This indicator informs you which gear is desired while driving to save fuel. For example: : Indicates that shifting up to the 3rd gear is desired (currently the shift lever is in the 2nd gear). ...