Towing service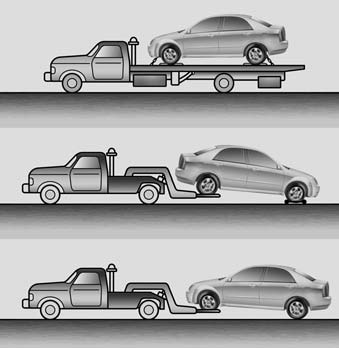 recommend having it done by an authorized Hyundai dealer or a commercial tow-truck service. Proper lifting and towing procedures are necessary to prevent damage to the vehicle. The use of wheel dollies or flatbed is recommended.
It is acceptable to tow the vehicle with the rear wheels on the ground (without dollies) and the front wheels off the ground.
If any of the loaded wheels or suspension components are damaged or the vehicle is being towed with the front wheels on the ground, use a towing dolly under the front wheels.
When being towed by a commercial tow truck and wheel dollies are not used, the front of the vehicle should always be lifted, not the rear.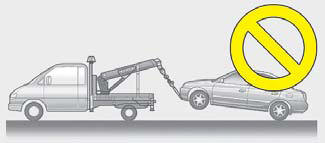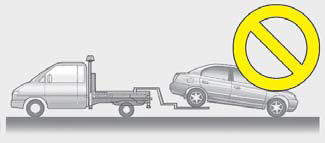 CAUTION
• Do not tow with sling-type equipment. Use wheel lift or flatbed equipment.
• Do not tow the vehicle backwards with the front wheels on the ground as this may cause damage to the vehicle.
When towing your vehicle in an emergency without wheel dollies : 1. Set the ignition switch in the ACC position.
2. Place the shift lever in N (Neutral).
3. Release the parking brake.
CAUTION
Failure to place the transaxle shift lever in N (Neutral) may cause internal damage to the transaxle.
See also:
Turn Signal Indicator Lights
The blinking green arrow on the instrument panel shows the direction indicated by the turn signals. If the arrow comes on but does not blink, blinks more rapidly than normal, or does not blink a ...
Checking brake pedal clearance
You need a helper to check the brake pedal clearance. With the engine running, have your helper press down on the brake pedal several times and then hold it down with a force of about 110 lbs (5 ...
Smooth cornering
Avoid braking or gear changing in corners, especially when roads are wet. Ideally, corners should always be taken under gentle acceleration. If you follow these suggestions, tire wear will be held ...