Towing service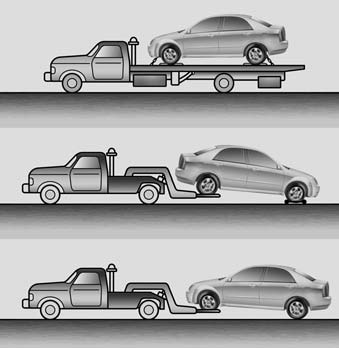 recommend having it done by an authorized Hyundai dealer or a commercial tow-truck service. Proper lifting and towing procedures are necessary to prevent damage to the vehicle. The use of wheel dollies or flatbed is recommended.
It is acceptable to tow the vehicle with the rear wheels on the ground (without dollies) and the front wheels off the ground.
If any of the loaded wheels or suspension components are damaged or the vehicle is being towed with the front wheels on the ground, use a towing dolly under the front wheels.
When being towed by a commercial tow truck and wheel dollies are not used, the front of the vehicle should always be lifted, not the rear.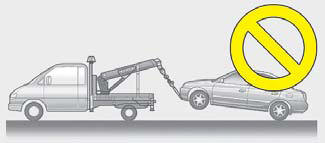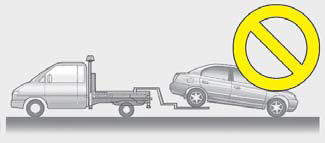 CAUTION
• Do not tow with sling-type equipment. Use wheel lift or flatbed equipment.
• Do not tow the vehicle backwards with the front wheels on the ground as this may cause damage to the vehicle.
When towing your vehicle in an emergency without wheel dollies : 1. Set the ignition switch in the ACC position.
2. Place the shift lever in N (Neutral).
3. Release the parking brake.
CAUTION
Failure to place the transaxle shift lever in N (Neutral) may cause internal damage to the transaxle.
See also:
Using a cellular phone or a two-way radio
When a cellular phone is used inside the vehicle, noise may be produced from the audio equipment. This does not mean that something is wrong with the audio equipment. In such a case, use the cellu ...
Ignition switch position
LOCK Without the immobilizer The steering wheel locks to protect against theft. The ignition key can be removed only in the LOCK position. When turning the ignition switch to the LOCK position, ...
Unlocking doors
1. Push the "UNLOCK" button on the transmitter. 2. Two turn unlock mode At the same time the driver's door unlocks, the turn signal light will blink twice to indicate that the system ...