Driving at night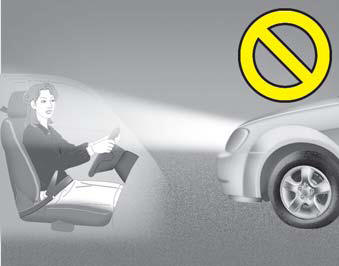 Because night driving presents more hazards than driving in the daylight, here are some important tips to remember:
Х Slow down and keep more distance between you and other vehicles, as it may be more difficult to see at night, especially in areas where there may not be any street lights.
Х Adjust your mirrors to reduce the glare from other driver's headlights.
Х Keep your headlights clean and properly aimed on vehicles not equipped with the automatic headlight aiming feature. Dirty or improperly aimed headlights will make it much more difficult to see at night.
Х Avoid staring directly at the headlights of oncoming vehicles. You could be temporarily blinded, and it will take several seconds for your eyes to readjust to the darkness.
See also:
Emission control system
The emission control system of your vehicle is covered by a written limited warranty. Please see the warranty information contained in the OwnerТs Handbook & Warranty Information booklet in yo ...
Checking tire inflation pressure
Check your tires once a month or more. Also, check the tire pressure of the spare tire. How to Check Use a good quality gage to check tire pressure. You can not tell if your tires are properly i ...
Driving in flooded areas
Avoid driving through flooded areas unless you are sure the water is no higher than the bottom of the wheel hub. Drive through any water slowly. Allow adequate stopping distance because brake perf ...