Driving at night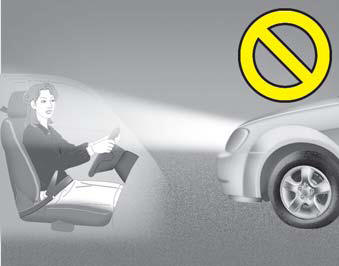 Because night driving presents more hazards than driving in the daylight, here are some important tips to remember:
Х Slow down and keep more distance between you and other vehicles, as it may be more difficult to see at night, especially in areas where there may not be any street lights.
Х Adjust your mirrors to reduce the glare from other driver's headlights.
Х Keep your headlights clean and properly aimed on vehicles not equipped with the automatic headlight aiming feature. Dirty or improperly aimed headlights will make it much more difficult to see at night.
Х Avoid staring directly at the headlights of oncoming vehicles. You could be temporarily blinded, and it will take several seconds for your eyes to readjust to the darkness.
See also:
Warning on the LCD screen (if equipped)
Key is not in vehicle If the smart key is not in the vehicle and if any door is opened or closed with the engine start/stop button in ACC, ON, or START, the warning illuminates on the LCD scree ...
Don't let your parking brake freeze
Under some conditions your parking brake can freeze in the engaged position. This is most likely to happen when there is an accumulation of snow or ice around or near the rear brakes or if the bra ...
Keys
For greater convenience, the same key operates all the locks in your Hyundai. However, because the doors can be locked without a key, carrying a spare key is recommended in case you accidentally ...